Parnell knows it is critical to do our part in response to COVID-19. We are diligently following the best practices as outlined by the WHO. This is a good reminder for us all about the importance of family, which includes our furry members. While we are working remotely, rest assured your Glyde products will still be delivered when you need them and in the safest way possible.
Thank you for being part of the Parnell and Glyde Mobility Chews family!
Get all of your #COVID19 pet questions answered. Keep yourself and your doggo healthy during this stressful time. Updated to be sure you know the facts. Also, we are sharing some good news because we all deserve it.
As we reflect on the new normal to prevent the spread of the COVID-19 virus, some good news arrived: our dogs are not carriers of the disease and cannot pass the disease onto others. This is comforting news for the millions of us at home with our fur-babies. Now, more than ever, our pets are providing us comfort and joy in ways we did not see before.
Because of the current issues, here is a one-stop information location for all your pet-related questions, what life looks like for us at Parnell Living Science and how to stay active with your dog. Read on!
There have been some news of pets with a COVID-19 diagnosis. A pug in North Carolina was supposed to be the first canine to develop the illness, but it was later determined to be false. At this time, there is news of a German Shepherd dog which may have contracted the illness.
A recent development regarding the tiger from the Bronx Zoo who tested positive for COVID-19 has many people wondering if you can get the virus from your pets. A recent article from Today's Veterinary Practice, further confirmed this is not possible:
"There is no evidence that a dog, cat or any pet can transmit COVID-19" to humans, says WHO. "COVID-19 is mainly spread through droplets produced when an infected person coughs, sneezes, or speaks."
COVID-19 Pet Questions Answered
Here are the expert's advice and answers to your frequently asked questions. Click on the links for more information on your pet-related COVID-19 questions:
Hopefully this information helps shed a light on the virus when it comes to our fur-babies.
GOOD NEWS YOU DESERVE
We have all been struggling with our new normal. Here is some good news!
Pet shelters across the U.S. have reported more people than ever are adopting and fostering dogs.
National Puppy Day was March 23! Many of us celebrated with new puppies.
This week, our C.E.O. and his family added a new puppy and it's an adorable beagle!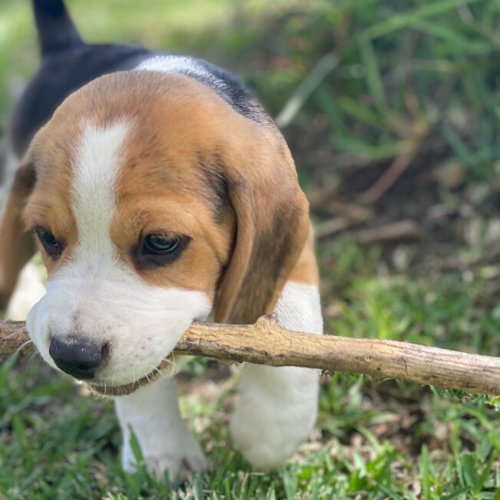 Her name is Cookie and we are all in love with her!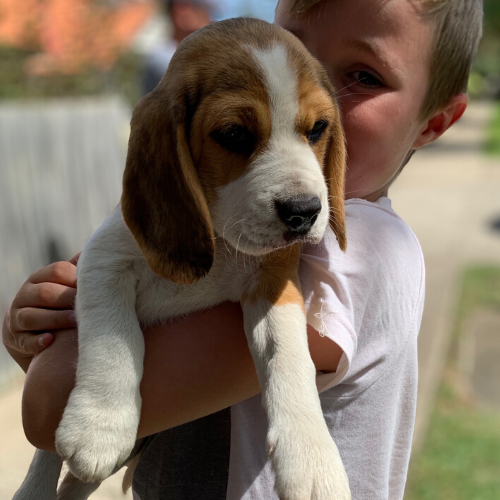 Parnell: Doing Our Part
Parnell knows it is critical to do our part in response to COVID-19. We are diligently following the best practices as outlined by the CDC. Our offices are working from home and we have postponed travel plans. We have also important safety practices in place to get our products out, including Glyde® Mobility Chews.
We have everything in place to deliver Glyde to our pet parents who rely on it for their dog's mobility, in the safest way possible. The best part is you do not need to leave your home to get Glyde for your dog, thanks to our on-line pharmacy, which is still fully operational.
As some of us are working from home, some are part-time in the office, what does it look like? Here are a few images of those who are most excited to have us there: our fur-babes. Check out our new co-workers:
We have a few employees with new puppies at home. Mick's new puppy is Pippa, a 9-week-old Tamaruke.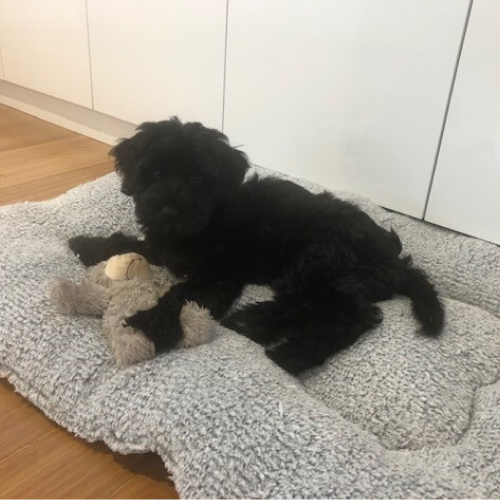 We aren't sure where Pippa ends and the office chair begins.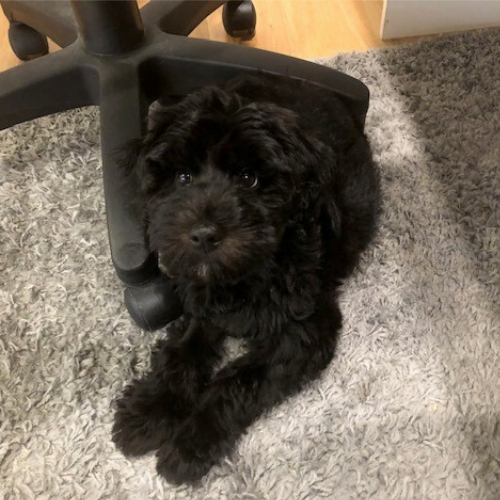 Jessica's co-workers are the new puppy, Luna the Labrador Retriever, and senior dog, Lucky Beagle. Luna is only 8 months old and over 50 pounds! Lucky is 10 years old and a good mentor to Luna, whose nickname has become "Lunatic" because of the crazy things she does.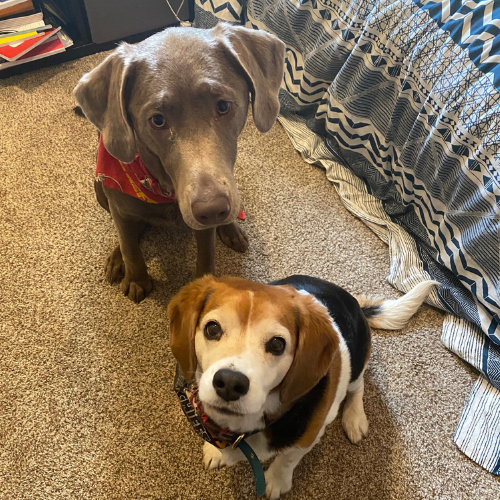 Lucky keeps up with Luna, thanks to Glyde Mobility Chews!
Shannon's co-worker is her adorable puppy, Watson!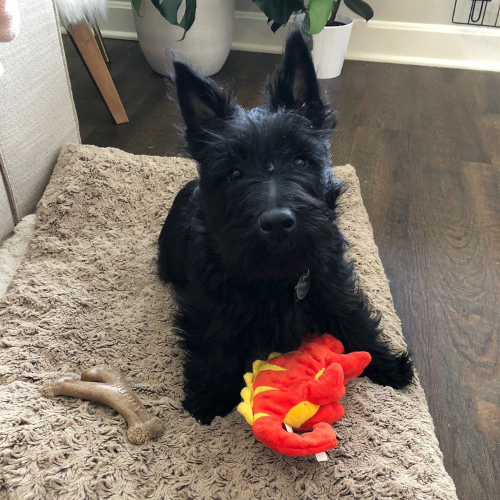 Shannon brought home her puppy in January. Watson is a 4-month-old Scottie. Shannon jokingly said her co-worker is "pretty high-maintenance."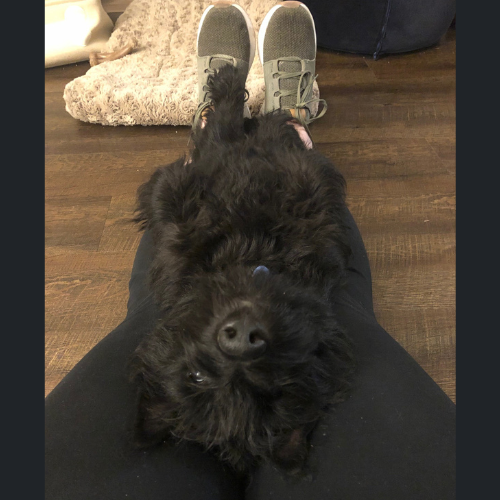 Shannon is doing "doga" here. She's stretching with her dog to take a mental health break from work. It's therapeutic for them both.
Keeping Active with Your Dog
Social distancing also means stay home to enjoy family. Can you imagine life without a dog? We can't either! Thankfully, we have our family and our pets at home, and their health is very important. Boredom becomes a factor for the fur-kids too. Here is what we can do to stay active, with the help of our dog:
Walk outside for at least 20 minutes a day. While gyms are not open in our area, we can still enjoy fresh air walks with our dogs.
Practice training. As we have a new puppy in the house, sometimes we skip training. No excuses now! At least 30 minutes a day of dog training.
Teach our dogs new tricks. Get the treats out and give them some attention.
Bake for your dog. Try some of those delicious doggie recipes. No calories for you and your dog enjoys the treats.
Tug of war. Always a great game and guaranteed for laughs.
Doga. This new form of yoga with your dog is a natural way to stretch and relieve stress.
Dog photography session. Try some new settings on your phone or camera and see what you get. Will your pup sit pretty for a photo?
Watch dog movies. There are a ton of dog movies. Watch one of your favorites and one you haven't seen before to add to the list. We love this list from Woman's Day magazine.
While there is much uncertainty in our lives right now, one thing remains certain: the love for our family and our pets.
Use this time as a good reminder for us all about the importance of family, which includes our furry members.