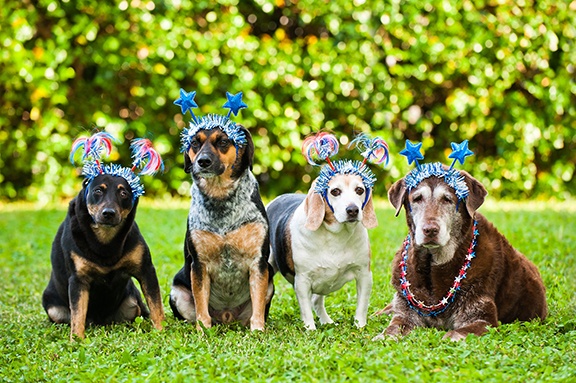 You know the history: on July 4, 1776, 13 colonies did the unthinkable and claimed their Independence from Great Britain. Fast forward several hundred years and the celebrations keep getting bigger and better. We have red, white and blue everything. We will wave all sizes of American flags and most likely will eat BBQ and apple pie.
Of course, the main ingredient for a proper July 4 celebration is fireworks whether we see them from afar, set them off on our own or attend a local event. We will sing off-key to the Star Spangled Banner. We will salute and honor our veterans and thank them for their service because we know freedom isn't free. Some of us are so patriotic; this entire celebration will bring tears to our eyes as we celebrate why we love the United States of America.
The holiday is not nearly as much fun for dogs and cats. They see this celebration as something completely different. They are not sure what the fuss is about, or why it sounds as if there is gunfire going off. If you take your pets somewhere they aren't familiar with, it will be even more difficult to get them to settle down.
According to the American Human Society, July 5 is the busiest day for animal shelters because so many dogs get scared and run away or get lost during the July 4 celebration. So in an effort to make sure that doesn't happen, here is a compilation of some of our favorite articles that were written by people who know pets best to be sure your pets have a safe Fourth of July:
Did we miss any? If so, put your favorite article in the comments section and we'll be sure to add it. From your friends at Parnell Living Science, have a safe and wonderful July 4!