Unfortunately, Goldens are at high risk for osteoarthritis as they are a large-breed dog. They also often have joint problems, especially in key areas like the knee and hip joints.
We are glad to hear about Archie the Golden Retriever. It seems he had problems with his main joints, as many Goldens do, for quite a while. We often hear about an athlete "blowing a knee" and needing surgery to fix it. Think of Archie as the athlete and they injury he had needed to be fixed by surgery, just like many athletes. Now, he's a happy, healthy #GlydeDog!
First, here is the osteoarthritis risk cart for the main dog breeds. As you can see, Golden Retrievers are at the top at "Very High Risk" because of their joint problems they have. They are athletic, beautiful dogs. But sometimes they can have joint problems requiring surgery.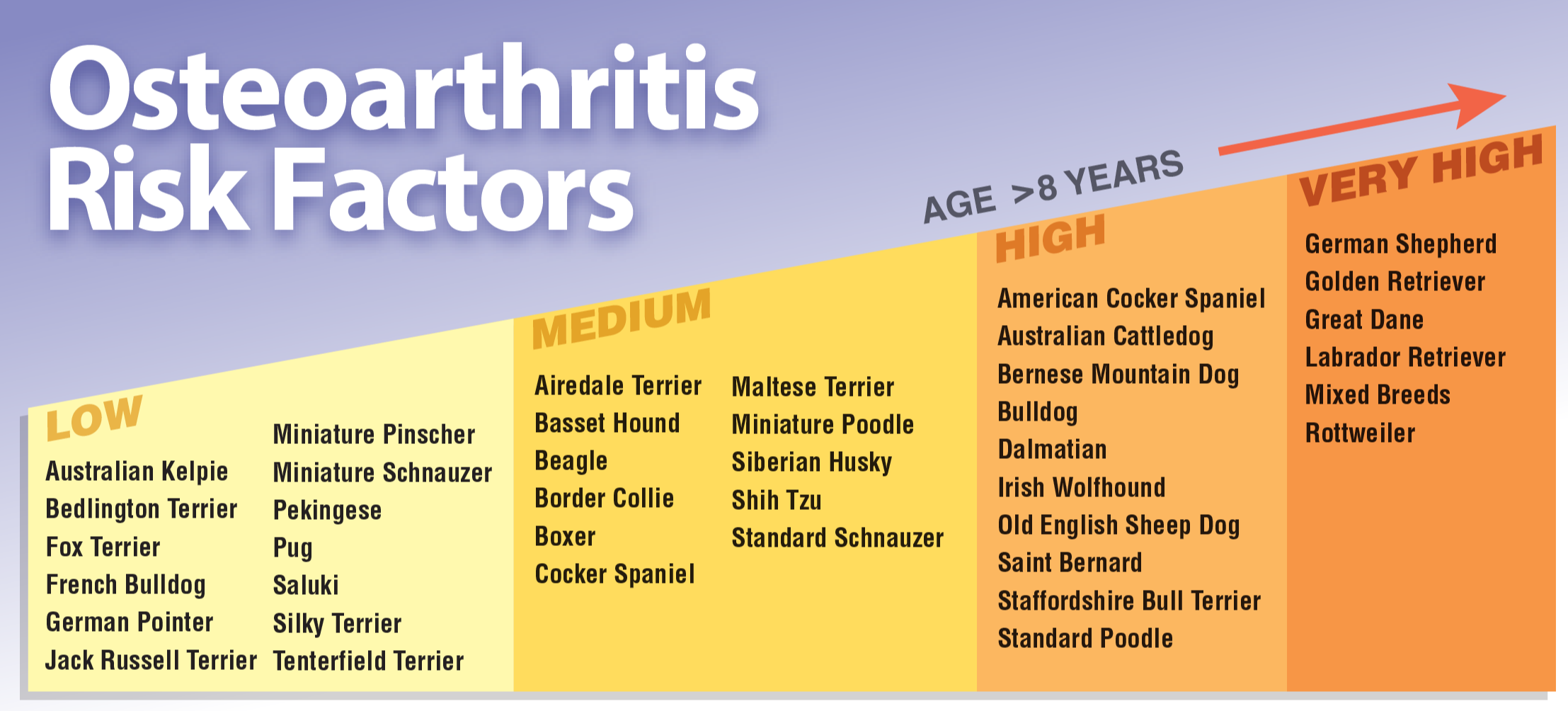 That was the case for Archie. Here is his story.
"Archie is an 8-year-old Golden Retriever. He has bilateral cruciate disease and had a complete rupture of his left cruciate 2-years ago. The right cruciate had a slight tear also.
A TPLO (tibial-plateau-leveling osteotomy, or a TPLO, which is a surgery performed on dogs to stabilise the stifle joint after it ruptures the cruciate ligament.) It was performed by Dr. Tom Smith on his left cruciate.
Archie's recovery period was a combination of [prescribed medication]. He was on a course of [additional prescribed medication] for the usual 4-week period with the plan to potentially perform a second TPLO on the right hindleg 8 weeks post-surgery. With careful management the right cruciate was kept stable.
Archie has been on the Glyde® Mobility chews since and his mobility seems so much better, considering he is an 8-year-old Retriever. Now he gallops around now like a puppy. No issues with squatting, rising, waling or running at all. This would be the best I have seen him moving since his surgery and that has been 2 years ago now."
- Lisa