Every month, we will highlight a popular dog or cat breed at risk for arthritis. We will talk about what we love about them, as well as reflect on how to keep them healthy. This month, we are focusing on the Bulldog, which edged out the beagle to take the fifth most popular dog breed spot.
Selecting the Bulldog comes in perfect timing as on April 21, it is "Bulldogs are Beautiful Day" and of course, next week is Easter. And, in an unprecedented act, Cadbury, one of the world's top chocolatiers and makers of the Cadbury Easter Egg, among other treats, recently announced that Henri the Bulldog would be the Cadbury Easter bunny.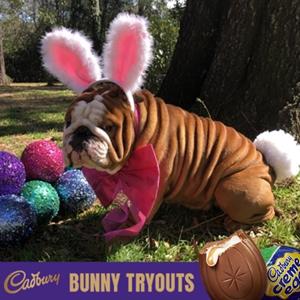 In a press release dated March 20, 2019, Cadbury stated:
"HERSHEY, Pa., USA, March 20, 2019 -- The Cadbury brand, one of America's top Easter brands, has announced Henri, a Bulldog as the winner of its' first-ever "Bunny Tryouts." This Easter, Henri, who lives with his owners Kathie & Tim Santillo in Wilmington, NC, will star with the Cadbury bunny in the brand's iconic Clucking Bunny commercial.

Over 4,000 entries of pets wearing bunny ears were submitted to the first-ever Cadbury "Bunny Tryouts" contest. With help from insta-famous star honorary judge, Doug the Pug, the contest judges selected Henri to star in the Cadbury Clucking Bunny commercial this Easter. Henri will make his debut with the Cadbury bunny himself in this year's commercial, which will be released April 2019."
Now that the whole world is in love with Bulldogs, it makes sense to highlight this breed and learn what makes them unique.
Let's start with:
5 Reasons we Love Bulldogs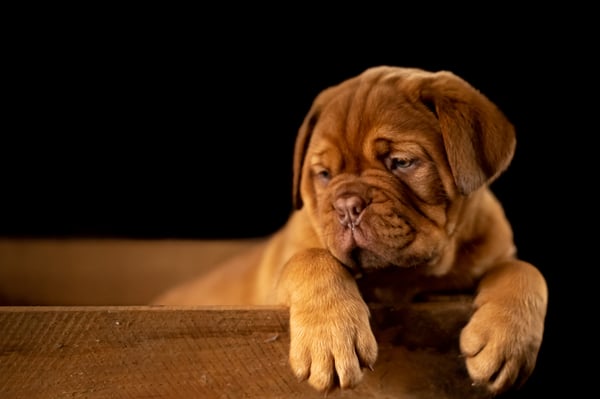 Bulldog Puppies! Just look at that photo. How can you not LOVE a Bulldog? Those eyes! Those wrinkles! Yes, love at first sight.
Unique physical qualities of a Bulldog. Even folks who are not dog lovers, or with little dog knowledge know what a Bulldog is. It's hard to mistake them from any other breed. The loose skin on their heads, the furrowed brow and up-turned nose. Yes, it's a Bulldog! That's why we love them.
The adorable Bulldog under-bite. The Bulldog's under-bite makes these sweet pooches even more lovable. When you see their under-bite exposed, it is perfect for taking a picture and posting pictures of because it looks as if they are always smiling or about to tell you a funny joke.
Their outgoing Bulldog personality. Bulldogs are friendly, courageous and sweet, but also outgoing and extroverted. They are often a symbol of perseverance and courage. No wonder they are the most popular dog colleges use as their mascot.
Bulldog idiosyncrasies. It only takes a few quick searches to find funny things about Bulldogs. From how they sleep, to their stubbornness when they put their mind to something. Bulldog owners get lots of laughs thanks to these interesting behaviors.

Here was a fun example of their determination:

Big Variety of Breeds
We've made it clear the Bulldog is adorable and lovable in their own unique way. More good news is there are not just one type of Bulldogs. There are over 48 Bulldog mixed breeds which attempt to take the best characteristics of the Bulldog and mix them with another great breed. What seems to be the most interesting is that although they are all types of Bulldogs, the variety is quite vast.
Want a large Bulldog that is traditional, beautiful and yet gets along with children? English Bulldogs are your choice.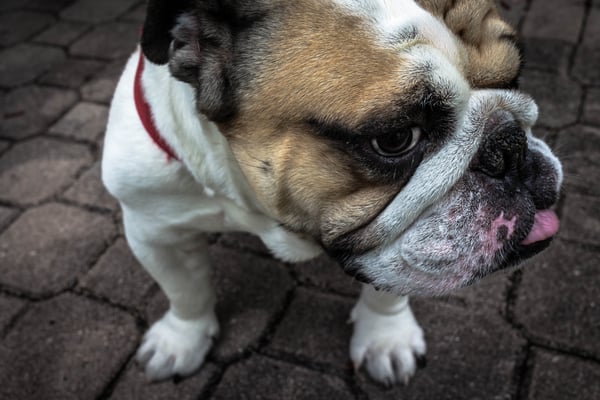 Measurements of the English Bulldog:
Height: About 31 to 40 cm. Bulldogs that are shorter in size are great in dog shows.
Weight: Males are 24 to 25 kg and females are 22 to 23 kg
Do you have a sense of humor that you would like to see in your dog? Or maybe you love the Bulldog, but it's just too big for you. The smaller French Bulldog is your choice.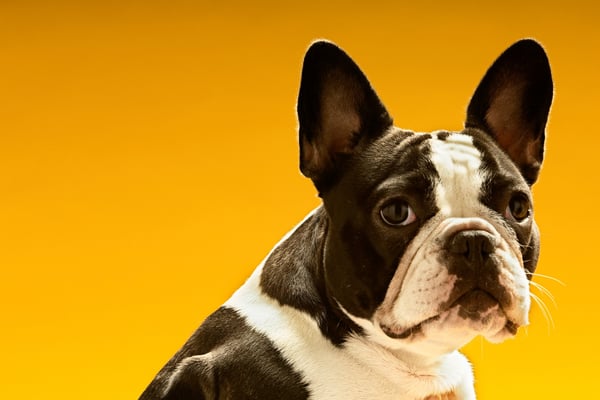 Measurements of the French Bulldog:
Height: 30 cm
Weight: 9 to 10 kg and 10 to 13kg.
Bulldogs are not natural swimmers, but being Australian, you may want one that could swim. Then the Australian Bulldog is your choice.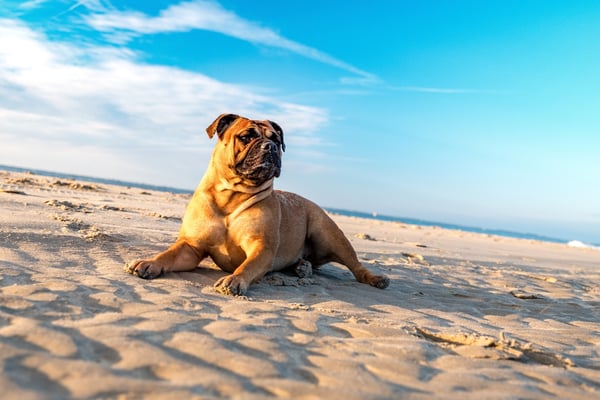 Measurements of the Australian Bulldog:
Height: Males are 146 to 51 cm while females are 44 to 48 cm
Weight: Males weigh 28 to 35 kg, and females weigh 23 to 28 kg
And there are many more types!
Bulldog the Mascot
Known as the happy, friendly and calm dog, the English Bulldog was originally bred for fighting. The breed was prized for aggression and its strong bite, plus its thick skin made it hard to puncture or injure during fighting. Today the Bulldog is known for its personality, but they are also honest, loyal dogs with tenacity and perseverance. No wonder they are a favorite selection for mascots.
Here are a few popular sports teams are who love Bulldogs:
Because the list is so long, we won't also mention all the other world-wide Bulldog mascots, including in the United States, Great Britain and other countries.

Top Health Problems of Bulldogs
All dog breeds will have health problems, Bulldogs are no different. These are not drawbacks to having a Bulldog, just things to consider keeping them in tip-top shape.
Hip & Elbow Dysplasia. Any Bulldog is very active in their youth. As they age, some joints get overused and therefore problems become more prevalent. Joint problems arise especially in the hip and elbow joints. This causes pain and impacts their mobility.
Loose Knees or Luxating Patella. Bulldogs inherited kneecaps that could become dislocated or move out of place as they age. There could also be a potential accident or injury that would cause this to happen. If your dog seems weak or slows down, consider checking their knees as the first point of deterioration in their cartridge.
Osteoarthritis, or arthritis. Because of the joint problems already mentioned, Bulldogs are at-risk for osteoarthritis. They are on the 'Very High Risk' section of the risk chart because of their size and weight. Check out all the risk factors, and the other dogs that join the Bulldog on the chart.
Weight problems. Because of their overall size, Bulldogs can get larger than their large frame is intending for them to get. Be sure to feed your Bulldog the correct amount of food and stay away from too much people food as that is often what might side-track your Bulldog from a healthy weight.
As the Bulldog is unique, there are some problems that are uniquely Bulldog health issues. such as eye issues, breathing issues and overheating issues. This is not in the expertise of Parnell Living Science, so here is a brief article that explains it better.
Work Now for Protected Joints in the Future
Because the Bulldog breed is built as it is, Bulldogs can start to slow down sooner than expected due to joint pain or arthritis. Help relieve these signs safely and naturally by adding a joint supplement to their diet.
The best way to prevent signs of arthritis is to begin joint protection earlier. Joint supplements can promote joint health and cartilage development which keep dogs active and youthful, longer. Learn what to look for in joint supplements for your dog.
If your Bulldog is over age 5, consider starting them a joint supplement as cartilage improvement can be seen in most labs with a daily dose.
Of course, make sure your dog stays active to help their joints work better. This includes regular walking and playing with your dog. A great opportunity to go to the dog park!
Keep the weight down on your dog. Bulldogs are already big. If they begin to get overweight, it will amount to more pressure on their joints. Exercise and proper feeding will help as they age.
While Bulldogs are happy to relax with their human, they also enjoy going on walks and moderate exercise to stay trim. Note that when the weather ticks up in temperatures, Bulldogs need to stay inside with air conditioning flowing. Their short muzzle can make it difficult for them to breath in heat and humidity. Plan to take those long walks early in the morning or later as the sun goes down.
Glyde® Mobility Chews
Parnell Living Science are the experts on osteoarthritis (OA) of arthritis in dogs and cats. We created a unique formula with key anti-inflammatory ingredients to combat the signs of aging. Glyde uses natural, gluten-free ingredients to promote healthy joints to let your dog do everything he or she loves to do! Glyde is the only nutraceutical that contains proven levels of three key components that work to relieve the painful signs of arthritis.
Glyde's proven formula has all-natural ingredients and high levels of glucosamine and chondroitin, plus Green Lipped Mussel (GLM). The proven levels of these key ingredients are what makes the formula unique:
About Bulldogs Are Beautiful Day
While we could not find the origin of "Bulldogs are Beautiful Day" on April 21, we could find several posts that talked about the beauty of Bulldogs and how to celebrate it with your Bulldog. While you could take a walk in the park with your Bulldog, or enjoy some time snuggling with them, we suggest checking out some of these great posts about Bulldogs:
One thing is clear: enjoy your Bulldog today and every day. Most importantly, always keep them happy and healthy!