Every month, we will highlight a popular dog breed at risk for arthritis. We will talk about what we love about them, as well as reflect on how to keep them healthy. This month, we are focusing on the Terrier Group. Read on to see if your Terriers made the lists we highlighted.
Just how many Terriers are there? So many! There are large and small, even as big as toys. They all have one thing in common: their big personalities, no matter the physical size. Read on to see this as well as see why we love the feisty breed, how to keep them healthy, and which ones are most at risk for arthritis.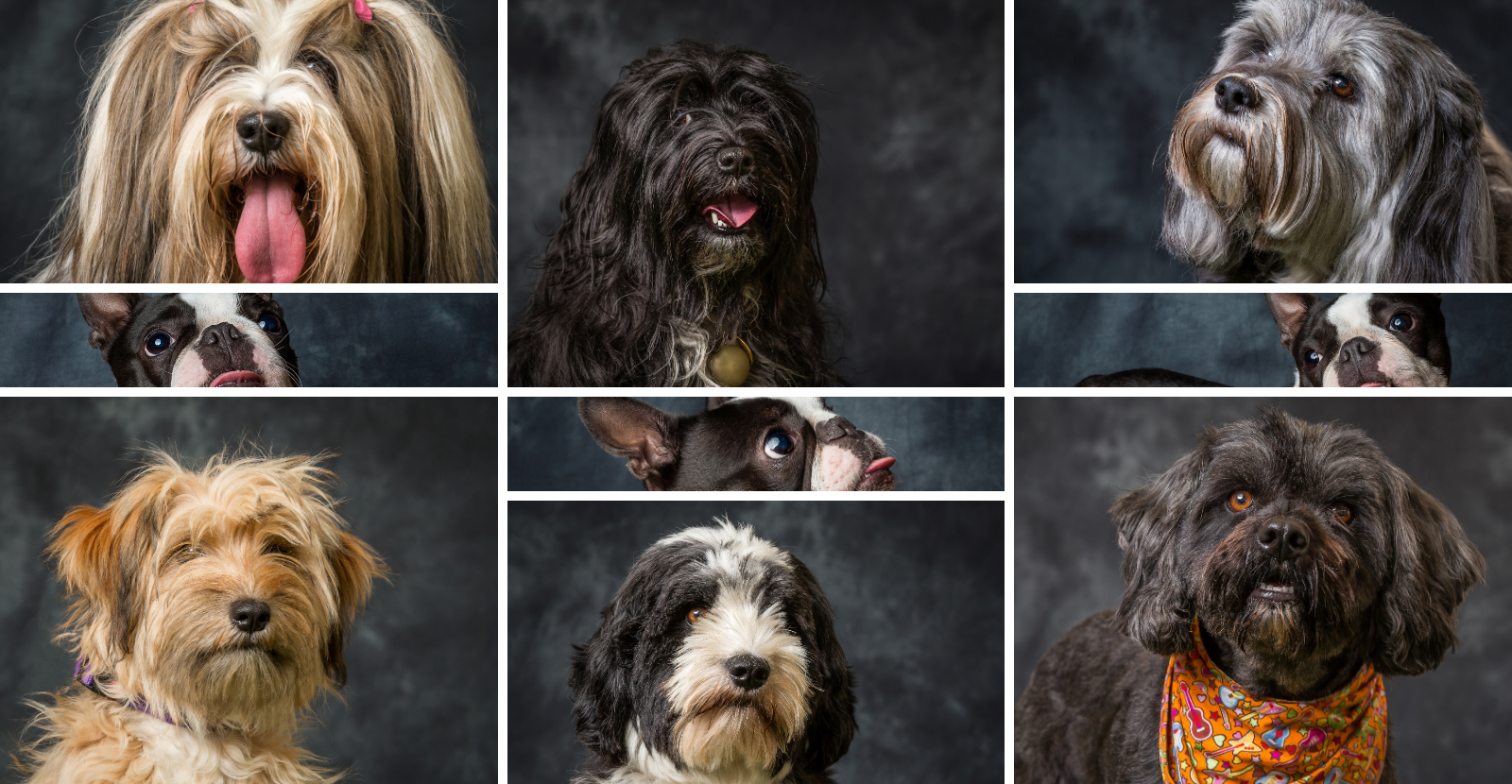 What do you think of when you think of a Terrier? There are a big variety of Terriers. The image here shows the many faces of a Terrier. Check out the world's largest kennel clubs and it shows just how many different types of Terriers there are. The United Kennel Club (UKC) recognises 45 different Terriers. The American Kennel Club (AKC) recognises 32 different kinds of Terriers. The British Kennel Club recognises 27 different Terrier breeds. With that kind of list, highlighting Terriers is a big ask. We tried our best and categorized them as follows:
Top 10 Terrier Breeds Based on Popularity
Top 5 Oldest Terrier Breeds
Top 5 Newest Terrier Breeds
And because Parnell and Glyde® Mobility Chews cares so much about joint health, also highlighted is:
Top 10 Terrier Breeds at Risk for Arthritis
Terriers are a unique group because they are so very different. They do have a few things in common. Mostly, they are all feisty, fun and energetic. They come in all different shapes and sizes and originate in different parts of the world. In the right home, they make fun-loving companions. Even the smallest Terriers are still known for big personalities.
Based on popularity here are the Top Terriers:
Top 10 Terriers Based on Popularity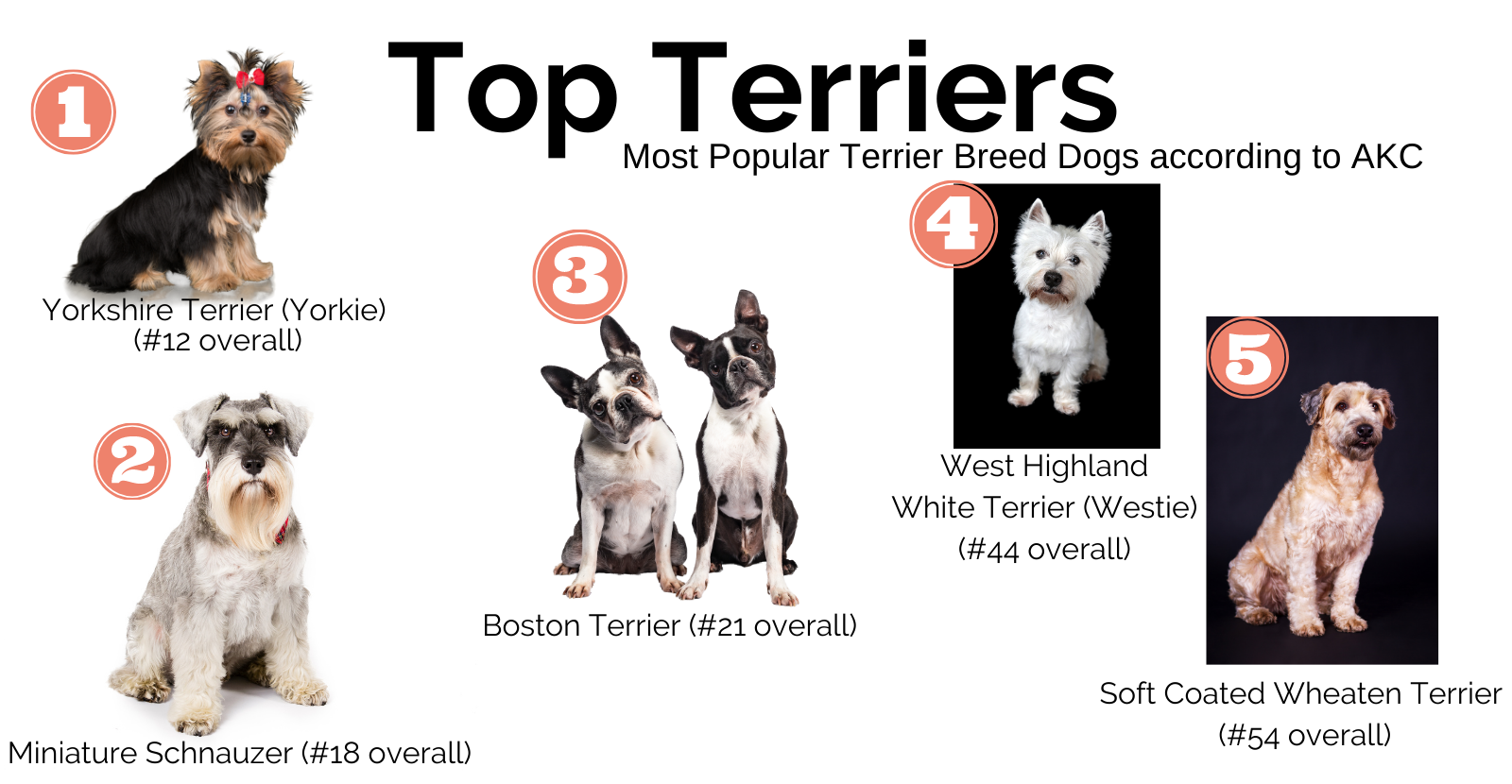 This image captures the top 5 Terriers, according to the AKC's top dog breed list. Here is a little more about each dog: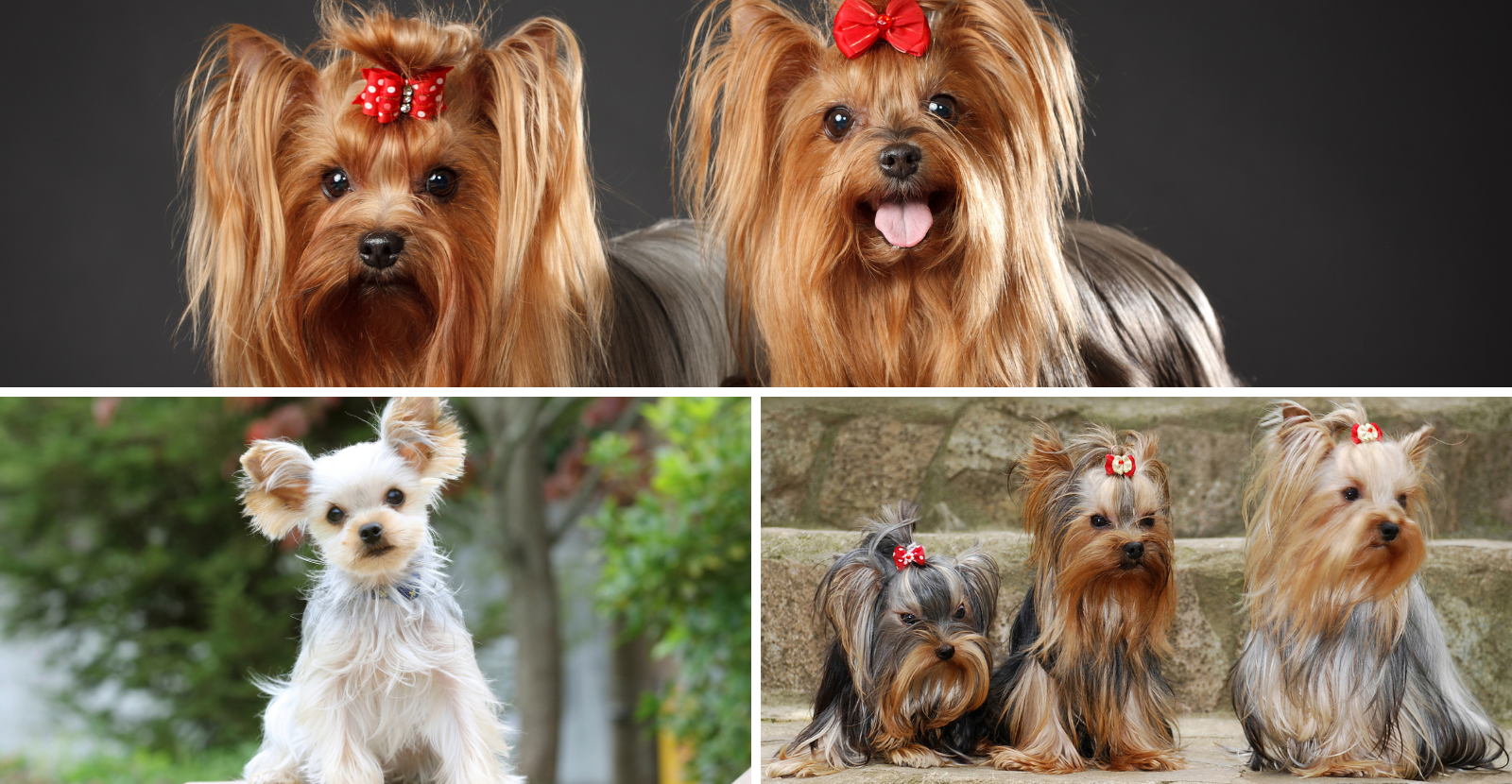 #1: Yorkshire Terrier aka the Yorkie. (shown above)
The Yorkie as it is often known as, is of English decent. One of the oldest Terriers on AKC's list, this breed first came to America in the 1870s. Yorkies are often known as a fashionable dog from the Victorian era. Even today, these small toy breed dogs can be found inside a purse because they fit perfectly. Their long hair is often combed perfectly and they have the appearance of royalty with self-importance in their stride.
#2: Miniature Schnauzer.
(Yes, a Schnauzer is a Terrier!) Originated from Germany, they crossed a Terrier and a Schnauzer. This breed is lively, pleasant and playful. These loyal and devoted small dogs are great to go on a walks and enjoy active lifestyles. They are known for being feisty towards other dogs. Not necessarily good for families with small children, they are very smart and can learn to live with them, with proper socialization and training.
#3: Boston Terrier.
These short, compact little dogs often bring lots of laughs to their families because of the expressions in their eyes. Known for their intelligence, Bostons love exercise and are known for lots of brisk walks and high jumping abilities. Another standard in dog breeds, this dog has been a part of AKC since 1893. With a tuxedo-style fur coat, this breed is known to be an entertainer.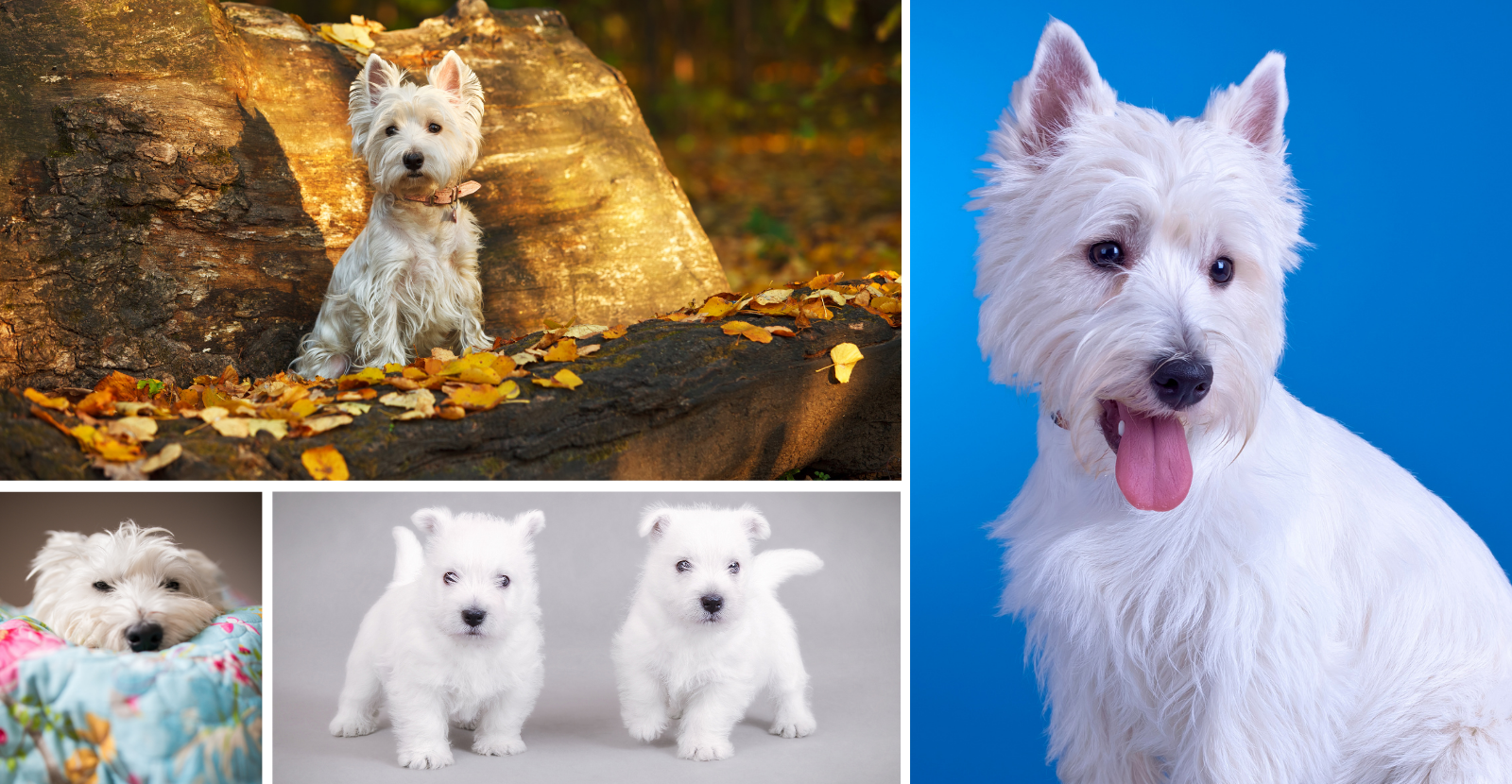 #4: West Highland White Terrier. (shown above)
Also known as a Westie are best known for their white coats. They are active and highly independent dogs. They are a great companion for families where they will be the center of attention. This small white dog enjoys getting involved in nearly everything there is at the home. They are known to dominate most situations, including the attention of their families, even though they are a small dog.
#5: Soft-Coated Wheaten Terrier.
This is an Irish breed most known for its unique single coat that makes them great dogs for those with typical allergies to other dogs. They are originally farm dogs used for herding livestock. Today's Wheaten is busy, playful, intelligent and fun. The breed is easy to train but they are very playful and assertive, so attention is often an issue. Very social dogs, they are a Terrier that will get along best with other dogs.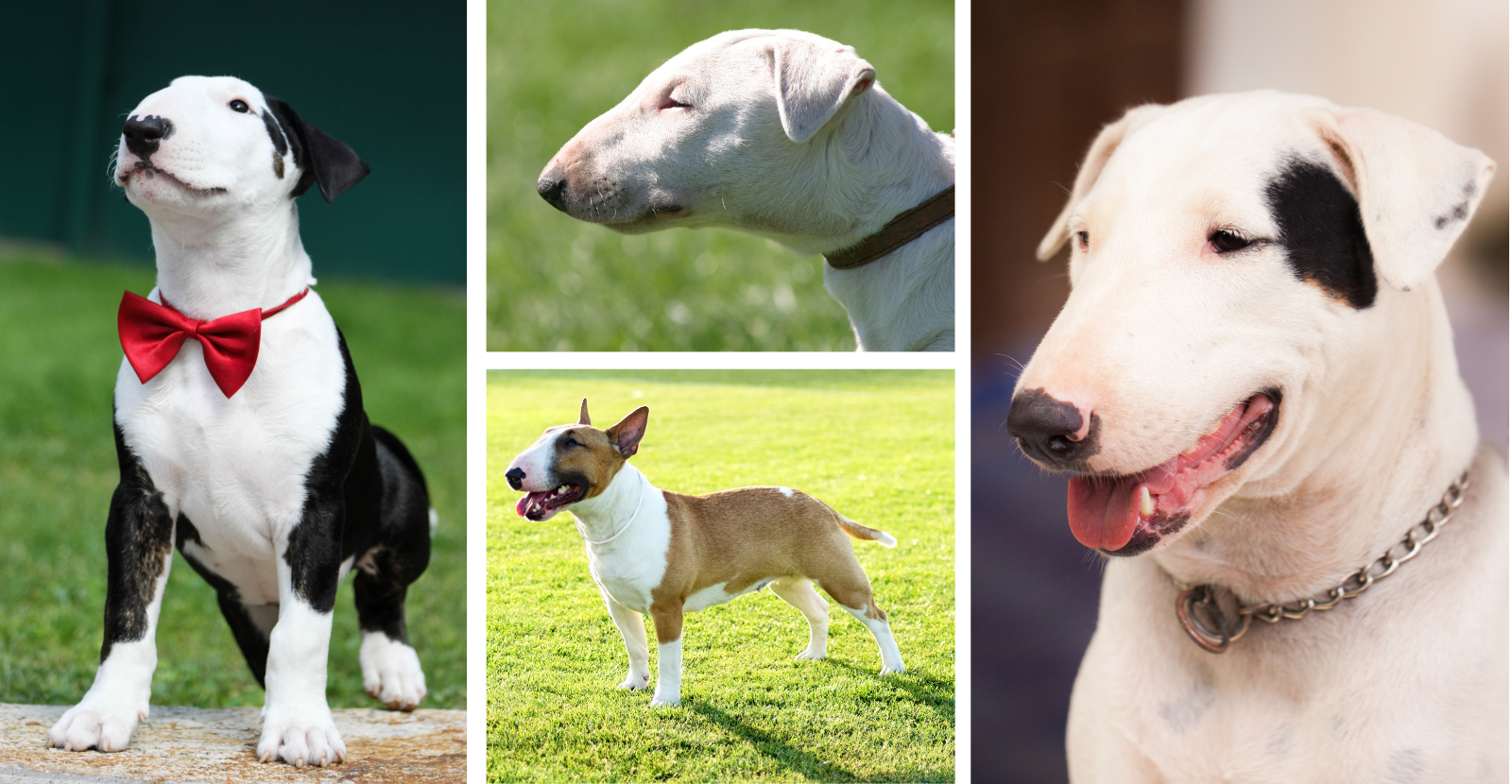 #6: Bull Terrier also known as the Bulley. (shown above)
They were created by crossing bulldog and Terriers. As they were originally created as attack dogs in dog fighting, thankfully the past is behind them as it is now illegal for dog fighting. Today the are an active, loving and rewarding breed for any family. Lively and powerful dog, they are a larger breed on the Terrier list. They are good with lots of space for running and a busy family.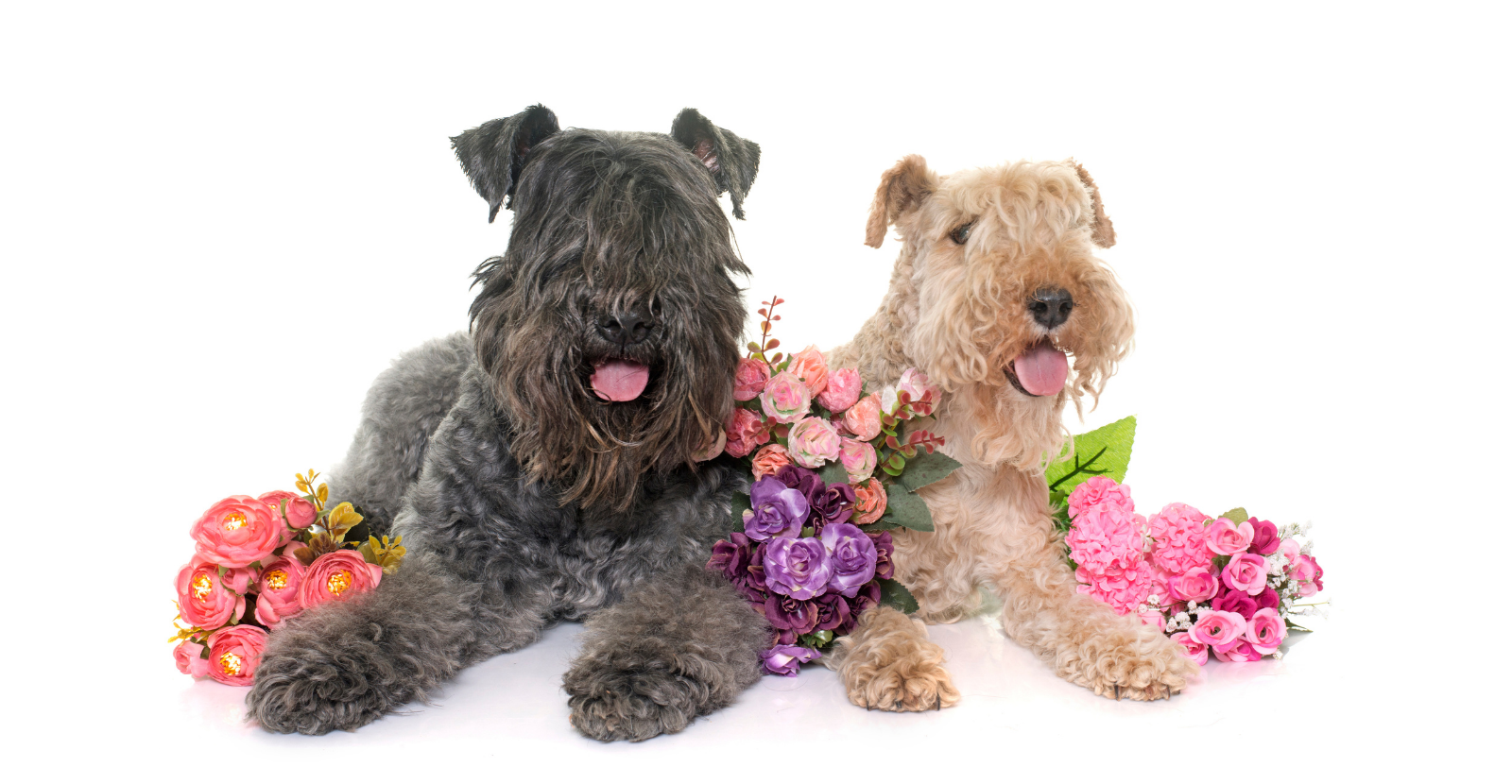 #7: Aredale Terrier. (shown above)
The largest of the Terrier breeds, they are an English breed originally used to hunt otters. They are intelligent and can be seen as military and police dogs. Smooth temperament and sweet disposition. They are dignified, loyal and intelligent with makes a great companion. They can be trained to a high level from everything to a watch dog to guard dog to a seeing eye dog or service animal.
#8: Scottish Terrier or Scottie.
This is a favorite breed of celebrities and Presidents of the United states like George W. Bush and Franklin D. Roosevelt. Scotties are small dog breeds but are are brave, alert and dignified. Known to be stubborn, it's always a good idea to keep them socialized at all ages to be sure they know how to be with other dogs.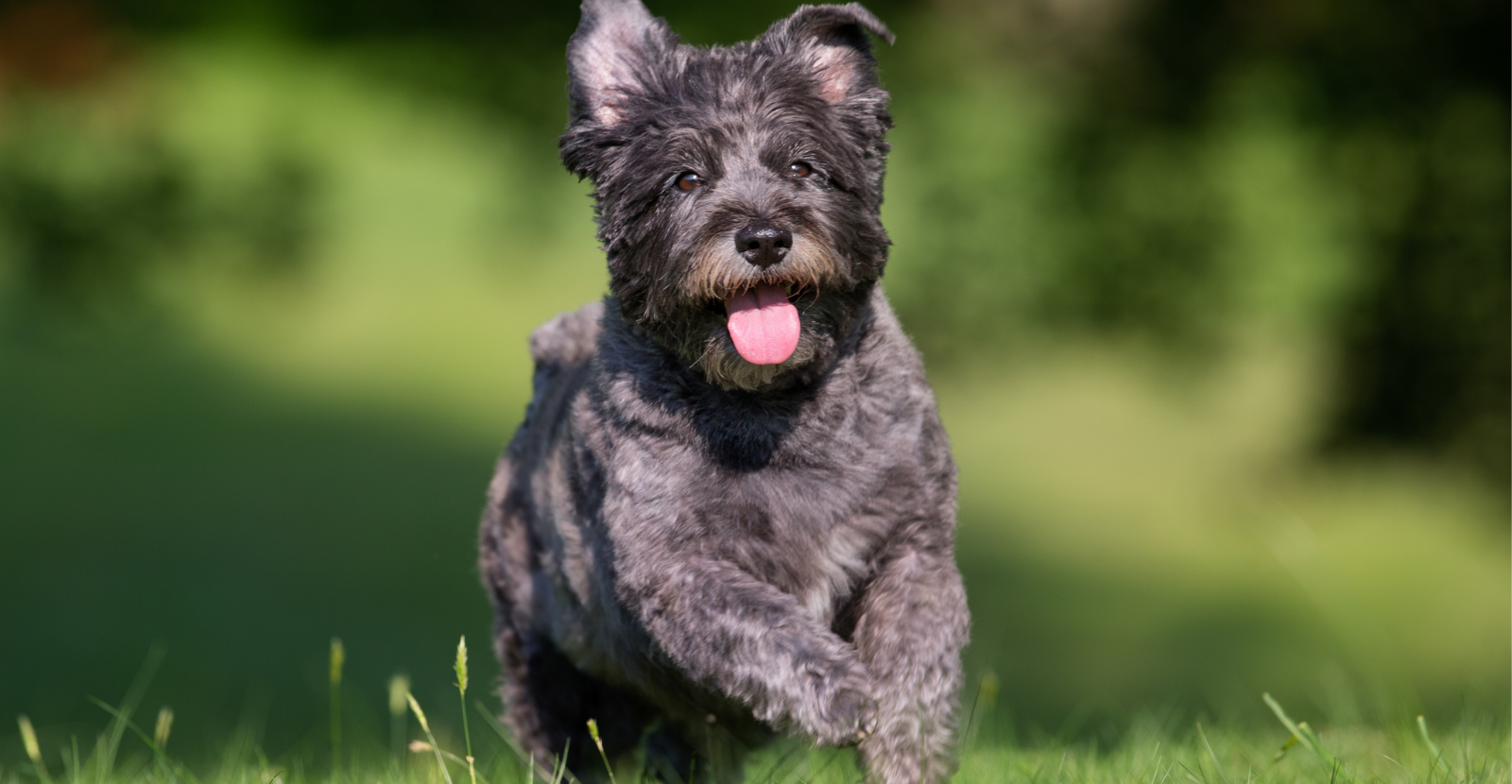 #9: Cairn Terrier. (shown above)
Pronounced "Karen," the Cairn Terrier is one of the oldest Terriers. They are busy, tenacious and one of the smallest dogs in the working Terrier group. They are eager to please and they love doing tricks. Cairns do good with games and demand lots of attention. For this reason, they are great with kids, loyal and one of the most loving dogs in the Terrier group.
#10: Staffordshire Bull Terrier.
They were originally used for dog fighting but thankfully that has been banned. Today, they have become a great breed for families. They enjoy time with families and are protectors of children. Often known as the "nanny dog," they are affectionate and fearless. They have powerful jaws that can destroy any toy you give them.


Top 5 Newest Terriers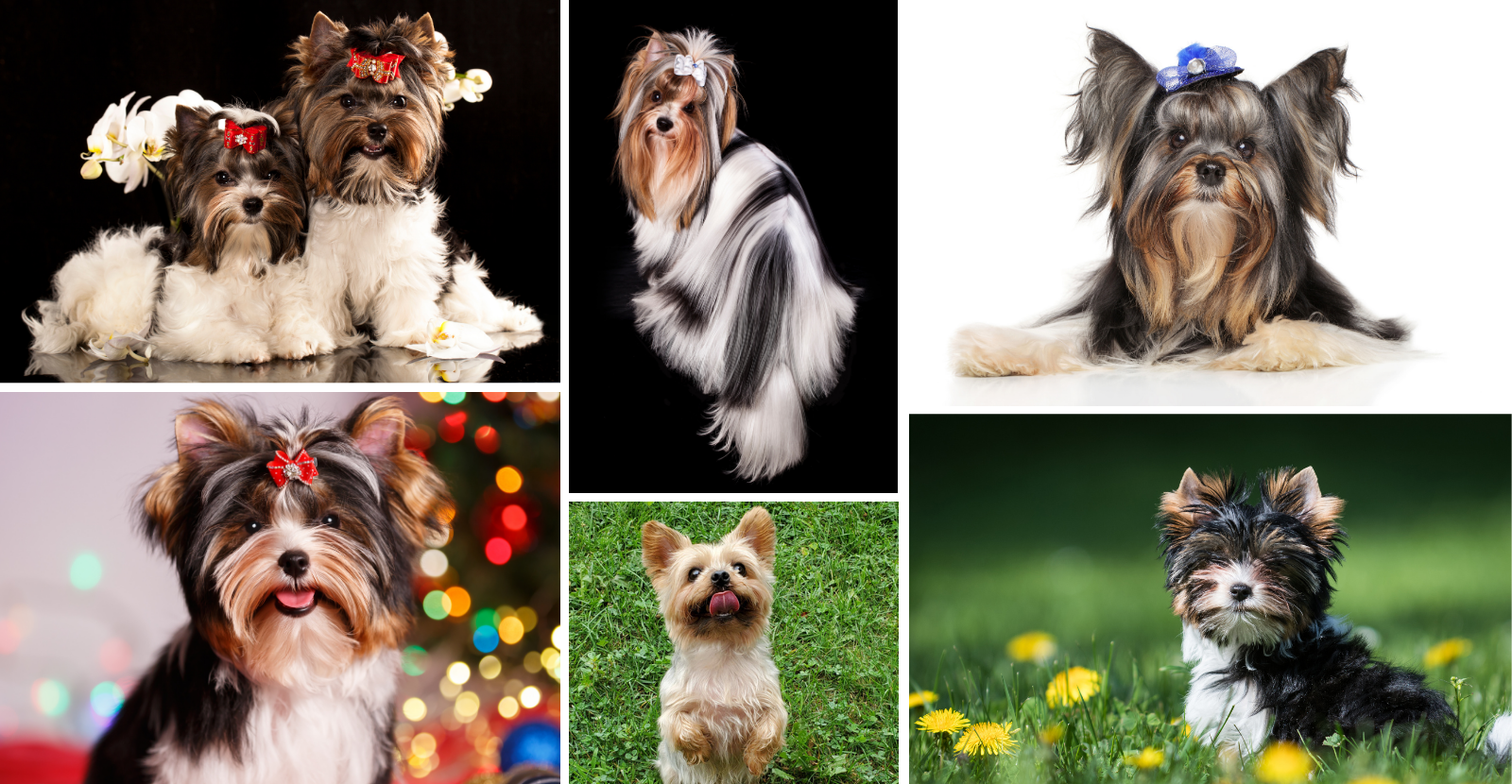 Welcome to the Biewer Terrier, pictured here above. This adorable Terrier was added in January, 2021 to the group of Terriers! Here are the most recent to join the AKC Terrier group, along with the year they were added to the AKC breed list:
Biewer Terrier: 2021
American Hairless Terrier: 2016
Rat Terrier: 2013
Russell Terrier: 2012
Cesky Terrier: 2012
Terriers made the news this month because the AKC added another Terrier breed to their official list of dogs. In 2021, the newest Terrier is the Biewer Terrier (pronounced Beaver). It is officially a member of the Toy Group of dogs. This means the AKC now recognises 197 different dog breeds.
This sweet little Terrier dog traditionally has a soft silky coated dog with tri-coloring. From Germany, this dog became a reality when Yorkshire Terrier breeders began producing tri-color Yorkies. They took the name of their breeders: Werner and Gertrud Biewer.
These dogs are low-maintenance dogs because of the size and mannerisms. If you keep their coats short, they only need brushing on occasion. However, plan to brush them daily if you go with a traditional long coat like the Yorkie.
The AKC announces a new breed every year. In 2020, they added the American Belgian Laekenois.
The 5 Oldest Terriers
When AKC started, there were 45 dogs they named to their breed list. Here are the top Terrier breeds when the AKC was first formed in 1885:
Bull Terrier
Fox Terrier
Irish Terrier
Scottish Terrier
Yorkshire Terrier
Terriers Most at risk for Arthritis in Dogs: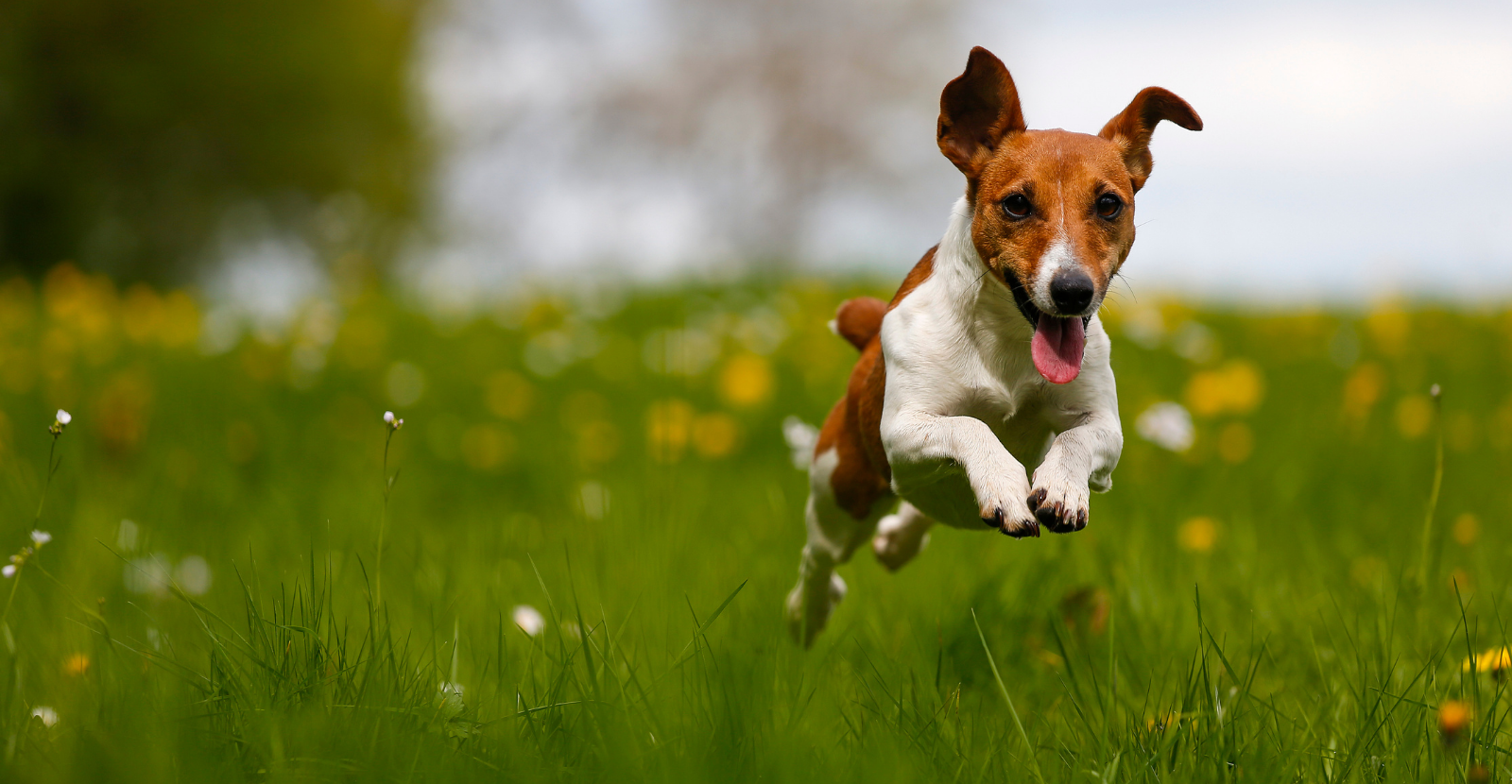 Staffordshire Bull Terrier. (High Risk)
Airedale Terrier. (Medium Risk)
Maltese Terrier. (Medium Risk)
Jack Russell Terrier. (Pictured above) (Medium Risk)
Silky Terrier. (Low Risk)
Bedlington Terrier. (Low Risk)
Fox Terrier. (Low Risk)
Tenterfield Terrier. (Low Risk)
Miniature Schnauzer. (Low Risk)
Mixed Breeds. (High Risk)
Top Health Problems of Terriers
The Terrier dogs at risk for arthritis range from low to medium and high risk. As you can imagine, the larger the Terrier, the more likely they will have joint problems, which might lead to arthritis. However some of the smaller Terriers, such a the Jack Russell Terrier, make the list because of how much they jump which adds wear and tear on their joints from high activity.
It is important to make regular assessments of your dog's mobility. Joint supplements are a great preventative measure to keep Terrier's joints in good health for as long as possible. Arthritis is as painful for dogs as it is for humans. And just like humans, there is something you can do about it. Learn more about arthritis in dogs and check out all the risk factors.
Mixed breed dogs often have arthritis issues because they are a mishmash of different breeds. While you get the good in the breed, you also get health problems associated with them. There are so many mixed breed dogs with a Terrier background. If you have a mixed breed with a Terrier, consider getting them on a joint supplement like Glyde Mobility Chews.
Glyde™ Mobility Chews
Parnell Living Science are experts on arthritis in dogs. As the creators of Glyde Mobility Chews, we developed a unique formula with proven levels of anti-inflammatory ingredients to combat the signs of aging. Glyde uses natural, gluten-free ingredients to promote healthy joints to let your dog do everything he or she loves. Glyde is the only supplement with proven levels of three key components working to relieve the painful signs of arthritis.
Glyde's proven formula has all-natural ingredients and high levels of glucosamine and chondroitin, plus Green Lipped Mussel (GLM). The proven levels of these key ingredients are what makes the formula unique:
No matter what Terrier you have, you can always count on Glyde Mobility Chews to keep them active, feisty and with more pep in their step!
What Terrier did we miss on our highlight page? Let us know on our social media accounts!