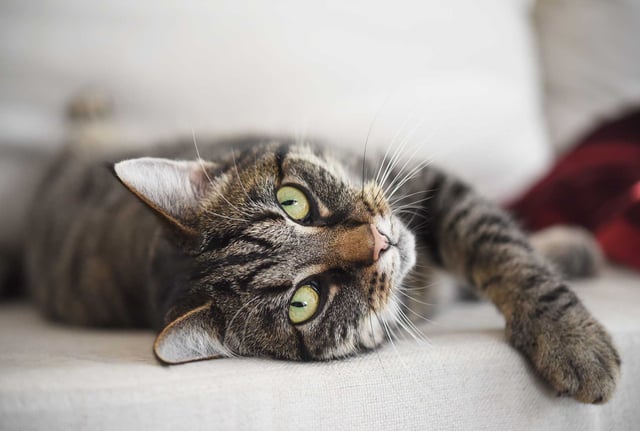 Both people and animals show signs of joint disease as they age. In people, it's called arthritis, but in dogs and cats it can be referred to as osteoarthritis (OA) or degenerative joint disease (DJD). No matter how you say it, it is definitely painful and often under-diagnosed. For some, it is part of the aging process. But the aging process can start earlier than you think as studies show that 84% of cats age 5 – 10 will have early signs of OA that is visible on X-rays1. Sometimes the pet parent may not recognize it as such because felines are known for being aloof and often hide signs of pain. For more information on osteoarthritis in cats as well as some signs to look for, read this.
If you suspect the beginning stages of arthritis in your furry feline friend, a key next step is researching how to combat the disease. Adding supplements to your cat's regular routine can serve as a preventative measure to delay signs of discomfort. Nutritional supplements are a natural way to decrease inflammation in joints while increasing cartilage development and overall joint health. This will help your cat stay more active and youthful through the years. With so many supplements on the market today, here are some things to keep in mind to identify the best options for the adorable cat in your life.
1. Key Ingredients
The first thing to understand is the key active ingredients in the product you choose. There has been a lot of research on Glucosamine and Chondroitin Sulfate and how they can effectively treat the signs of arthritis in humans, dogs and cats alike. Some think of New Zealand Green Lipped Mussel as a best-kept secret as it is concentrated off the beautiful coast of New Zealand and not as easy to find. It has been determined to be one of nature's best sources of eicosatetraenoic acid (ETA), which on its own has an abundance of health benefits including being one of the most effective anti-inflammatory joint supplements. Several products include these ingredients, but the key is to be sure there is a high enough level to make an impact for your furry friend. An added bonus in the product you select is if the list includes contain no artificial ingredients.
Glyde™ Mobility Chews formulation contains all of these top ingredients, which is why it is often recommended by veterinarians (note that no prescription is necessary). . Glyde has proven levels of glucosamine and chondroitin which promote joint health and normal cartilage development. It also contains New Zealand Green Lipped Mussel, which is a potent Omega-3 fatty acid that helps relieve joint stiffness and maintains youthful mobility. Plus, Glyde is all-natural and gluten-free with no artificial flavorings or additives.
2. Dosing Instructions
Joint supplements for cats with arthritis should have clear dosage directions on the bottle. Some split the dosing by the weight of your cat being either under 10 pounds and over 10 pounds. This system doesn't offer true personalized dosing guidance for a majority of cats. There are also drops on the market for cats. To put a drop for every 2 pounds of body weight means you doing the math and counting out the drops. And we all know how easy it is to add too many drops accidentally.
With the dosing chart clearly marked on all Glyde Mobility Chew bottles, you know that you are giving your cat the precise amount of nutrients they need. Glyde provides dosing that puts weight categories into 3 ranges: 3-8 pounds, 9-17 pounds and 18-25 pounds. Plus, the soft chews make it easy to break apart into half chews to better match what your cat needs based on the proper dosing.
3. Pill, Drops or Soft Chew?
This secret is something you can discover simply by asking yourself if you would prefer giving your pet a hard pill, liquid drops or a soft chew that is more like a treat? Pills are sometimes less expensive. But then you add in the cost of trying to cover up the unappealing product by purchasing pill pockets or food. Some cat joint supplements come in liquid drops, whcih are messy and need to be counted out and mixed into their food.
Glyde Mobility Chews are soft, delicious for your cat. Since a cat has a smaller mouth, the chew size is smaller for easier consumption by your cat to eat. An added bonus is that they come in heart-shaped chew that can be broken in two. It helps make sure you are giving the right amount for their weight and the size of their mouths. Most pet parents would prefer giving their cat a soft chew that might seem like a treat, rather than a pill or drops mixed in with food.
4. Tastes Test
Some products are made for both cats and dogs. Think about your cat. Would your cat enjoy eating the same thing a dog would? We think not! Glyde Mobility Chews takes this into consideration, including additional flavor ingredients that make it even more appealing for felines. The difference is your cat will love the taste of Glyde Mobility Chews so much that they will think it's a treat! And more good news: it's really good for them!
5. Smell Test
If you are used to giving your cat different treats or food, you are familiar with the smell. Glyde Mobility Chews has a fish-like smell from the green lipped mussel preferred by felines. Because it contains only all-natural ingredients, the smell is more similar to a treat, rather than the chalky, medicine-like smell of other products.
The Glyde Difference
As with everything, education is the best way to unlock the secrets to understanding how to keep your cat active and youthful. Hopefully these tips will help you make the best choice for your cat. If your fur-baby is at risk for OA, the best thing to do is to start treatment as early as possible. Arthritis cannot be cured, but the painful signs can be relieved and steps can be taken to prolong the time it will take before signs take hold. Glyde Mobility Chews is a revolutionary formula in the form of a soft chew with flavoring specifically developed for cats. Your pet will think it's a treat but you will know the truth: it's good for your fur-baby. And that is a win/win for cats and cat-lovers alike!
______________
1Reference: Cross-Sectional Study of the Prevalence of Radiographic Degenerative Joint Disease in Domesticated Cats B. D. X. Lascelles, J. B. Henry III, J. Brown, I. Robertson, A. Thomson Sumrell, W. Simpson, S. Wheeler, B. D. Hansen, H. Zamprogno, M. Freire and A. Pease Veterinary Surgery 39 (2010) 535–544