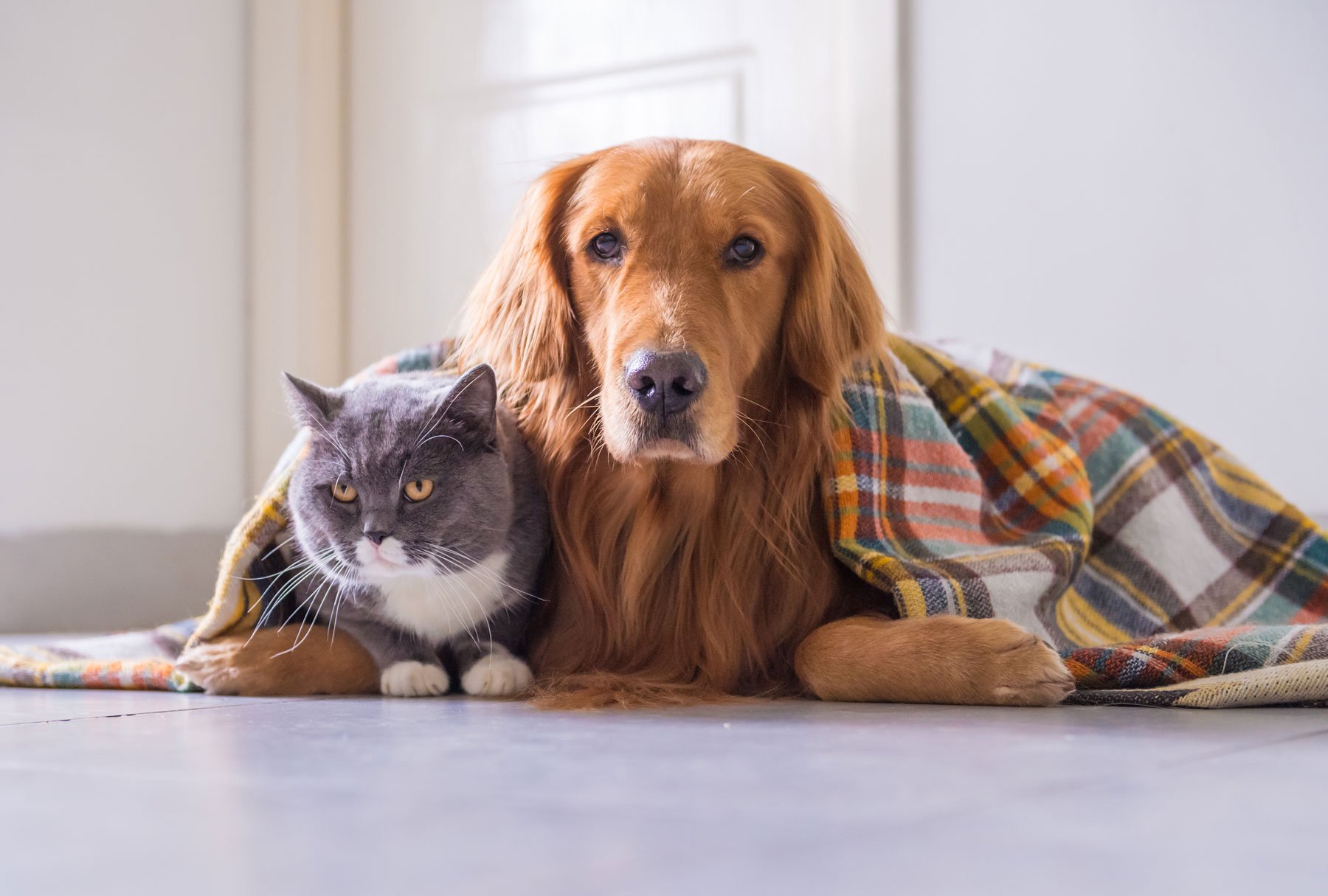 Find yourself by the fireplace more and possibly, covered in a blanket? This is because when it's cold outside, we change our habits to acclimate to the weather. We wear warmer coats, use gloves and hats and stay inside more. How can we help our pets prepare for cooler temperatures? Here's a helpful infographic to keep in mind.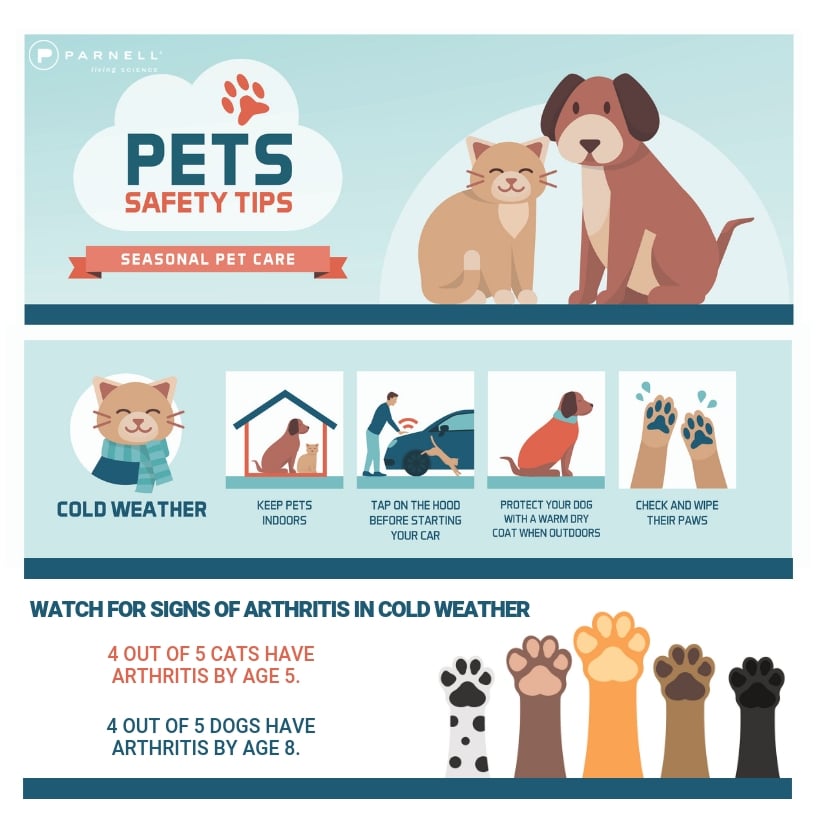 Now, read on for further detail:
Keep Pets Indoors
It is equally dangerous to have your pet in the car in freezing temperatures just as it is in sweltering heat of summer. Cars quickly go from garage temperatures to outside freezing temperatures as soon as you park the car and turn off the engine. Plan to leave your fur-babies behind in the warmth and safety of their home. Plus: receive warm doggie kisses when you get home!
When they go outside temporarily for walks or to do their business, be sure you have them on a leash or enclosed back yard. Unfortunately, pets are lost more in winter than any other time of year. This is because snowfall covers scents which would usually help a lost pet find their way home.
This is also a good reminder to be sure your pet's collar has current contact information or they are microchipped. If someone else finds them, these resources are extremely important.
Tap on the Hood Before Starting Your Car
Cats can be more resourceful in the cooler temperatures than dogs. Outdoor cats may not even want to be indoors. However, when it gets below freezing, cats crave warmth and may crawl underneath cars to keep warm. If you start your car, and a cat is sleeping in the wheel well or under the hood, they may get injured or killed by moving engine parts. To prevent this, make a noise by tapping on the hood of your car or a honk of the horn to scare away any overnight guests who may have used the warmth of your car as a refuge from freezing temperatures.
Protect Your Dog with a Warm Coat when Outdoors
You know your dog, so dress them appropriately when heading outside in the freezing temperatures. If you have a Burmese Mountain dog or Saint Bernard, most likely they won't need a coat to protect them from the temperatures as they have their own thick, long coat of hair. But if you have a dog with shorter hair, such as a Boston terrier or Chihuahua, put a sweater or coat on them to keep them warm when they are outside. Hypothermia and frostbite can happen to dogs, just as it can happen to you.
Check and Wipe their Paws
Your beautiful fur-baby may pick up a variety of toxic chemicals on their paws during the winter such as salt or anti-freeze. Be sure to wipe your dog's paws with a moist cloth when you return from walks. This will clean their paws and prevent them from licking it off and getting ill.
Just as the cold weather chaffs human skin, this can also happen to your dog's paws. There are now a variety of products you can use to moisturize the pads of their paws, from a dog-specific balm to a non-scented lotion or petroleum jelly.
Is it really cold where you are? You may want to invest in doggie booties to go outside in. My dog had cute dog boots. Unfortunately, she kicked them off as soon as we got outside. They have made tremendous improvements in dog boots and socks. A quick internet search online will find dog boots that actually stay on your dog's feet.
Watch for Signs of Arthritis
According to Petmd.com, arthritis is fast becoming one of the most common health problems seen by veterinarians. Just as in humans, cold weather can make joints ache more, thus the signs of arthritis becomes more apparent.
Unfortunately, 4 out of 5 cats by age 5 will show signs. Also, 4 out of 5 dogs by age 8 will have signs. An even more surprising statistic is 1 out of 5 dogs will have signs of arthritis by the time they are one year old!
Some common signs of arthritis to look for include:
Hesitation or visible discomfort when getting up from sleeping
Hesitation or visible discomfort when jumping into a car, going up stairs or getting out of bed
Lack of willingness to play as often as they once did
Less activity, more sleeping
As humans and dogs age, arthritis becomes more likely. For dogs, there are certain breeds with a higher propensity for osteoarthritis in dogs. Many people believe their cats sleep because they are just really tired. Just in case, take the risk assessment to find out. There are many risk factors associated including breed, size and weight of dogs and cats. Find out the risk of your pets by clicking a link below:
You will see the initial assessment based on your answers and receive an email with the results.
No matter what you do, stay safe in the cooler temperatures. Let's continue our trends in making 2019 the healthiest, safest year yet!