We received an update from Jericho's mum, Jessica, recently. She wanted us to know how well her dog had been doing since being introduced to Glyde™ Mobility Chews a little over 4 years ago. What was the most interesting about this story is Jessica had not noticed there were mobility issues with Jericho until they went on vacation, then returned. She had been away from her precious pooch and when they got back, she realized Jericho just wasn't moving as he did before.
You can tell this pup has pizzaz with a photo like this! Read on about Jessica and Jericho's story. We are proud to call the handsome Jericho a #GlydeDog and thrilled to hear how they continue to do well, thanks to Glyde. Read on for their story!
It seems for most of us, we don't see things as easily when they are in front of us daily. Sometimes when you are around your beloved fur babies every day, you miss subtle hints showing they might have osteoarthritis. Pet parent, Jessica, noticed things she hadn't noticed before once she was away and had returned.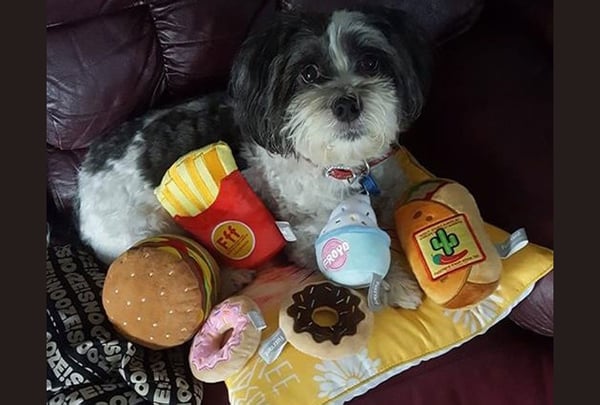 "My family and I went on holiday for a little over a week. I left Jericho in the care of a co-worker of mine until we got back. At the time, Jericho was 9 years old Maltese x Shih Tzu and still active. When I got back, he would not jump up to greet me or jump on the couch. It's hard to believe how quickly he had deteriorated, or maybe I hadn't noticed before.
It was suggested we try Glyde Mobility Chews by my veterinarian. Once we started it, he made a remarkable improvement! It seemed in no time Jericho was back to jumping up, greeting me on the couch running around. I was so happy he was back to his old self so quickly. Now, Jericho is 11 years old and still going strong thanks to Glyde!"
- Jessica
-- UPDATE ---
This post originated in 2018. We received an update from Jessica. She said:
"Jericho is now a 13-year-old Maltese x Shih Tzu and has been using Glyde for a little over 4 years! I have never tried another product as to why would I need to when Glyde has worked so well for him! He continues to entertain us and always is greeting me at the door when I get home chipper and full of bounce. He's like a puppy running around! People are always surprised when they ask how old he is and we say: he's 13! We are thankful we found Glyde for Jericho!"
- Jessica