We love all dog breeds but we highlight popular ones that are at high risk for arthritis. We talk about what we love about them, as well as reflect on how to keep them healthy. Old English Dogs (often abbreviated as OEDs) are large, playful dogs that are full of energy. Here is what you need to know about this breed, including how to care for the dog and all the hair, plus keeping them happy, healthy and active!
When we think of the beautiful, rolling English countryside, some might imagine the Old English Sheepdog (OES for short) running through the hills, herding sheep. Some may remember OES as the star in the original movie, "Walt Disney's Shaggy Dog." The reality is this dog is different than the vision we have of them. Part Bulldog and part Collie, the OES is not necessarily old, English or even a sheep dog. Today's OES still has the trademark shaggy coat and a peak-a-boo hairstyle, but they are in the homes around the globe and they are not usually herding sheep.
Read on to learn more about this herding breed dog, why we love them and how to keep them healthy.
Old English Sheepdogs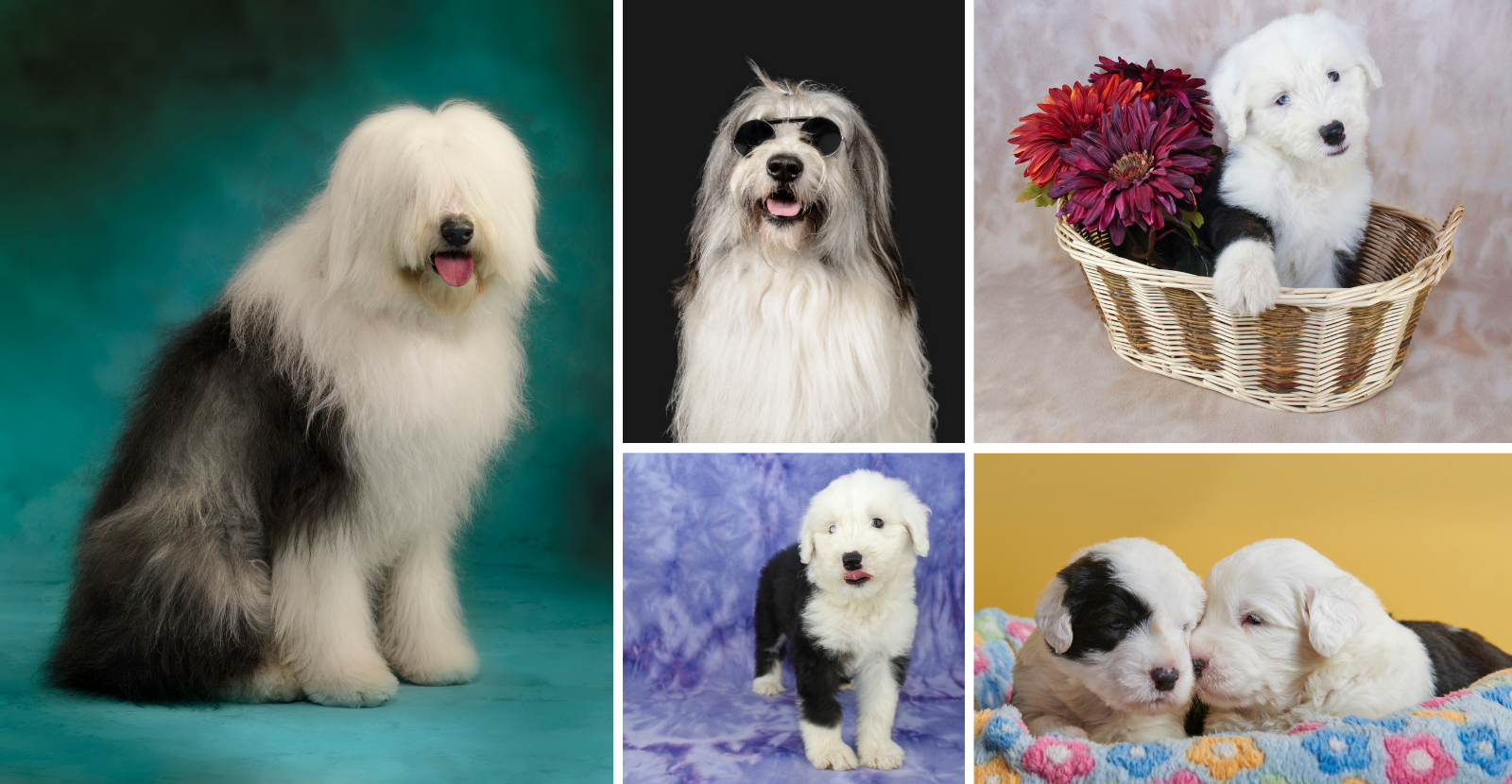 The Old English Sheepdogs are naturally photogenic. This is one breed of dog you can count on for being lovely all through their lives. They get to their full size by age 2 and they grow a foot of hair in their first year of life. Surprisingly, they see just fine under all that hair!
OES Heritage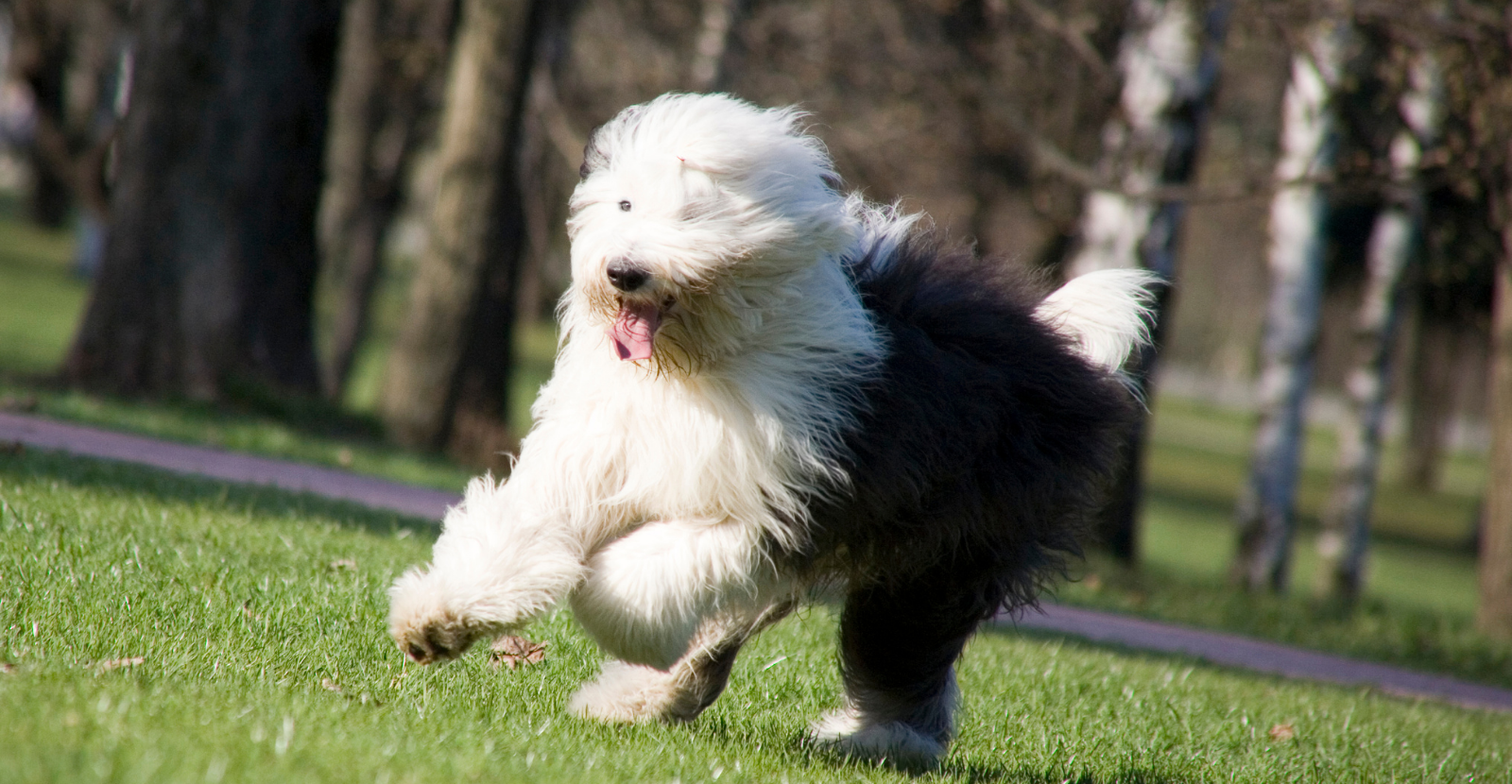 By the name, you think of these dogs as being from England. Surprisingly, they have a heritage with an interesting mix of Scotch, European and Russian ancestry.
According to the AKC, the name Old English Sheepdog seems to be an ironic name for the breed. As a creature recognized by historians beginning in the late 1700s, the OES is not particularly old by dog breed standards. By blood, they aren't fully English; with roots in Scotch, European, and Russian ancestry. In fact, they aren't even sheepdogs! The go-to sheepdog remains the Border Collie. And while a Sheepdog has Collies as cousins, mostly they did not do the running of sheep. In history, OES moved cattle over country roads from the pasture to town markets. In Germany, around the same time, the Rottweiler was building a similar reputation as a "butcher's dog." The AKC registered its first OES in 1888, and in 1914 the breed made its debut appearance in the winner's circle at Westminster Kennel Club.
Breed Standards
AKC Breed Popularity: Ranks 72 of 196
Height: 22 inches & up (male), 21 inches & up (female)
Weight: 60-100 pounds
Life Expectancy: 10-12 years
Group: Herding Group
OED in Pop Culture
There have been many movies inspired by the shaggy dog. They are so lovable and big, it is easy to see why they would make great characters in movies. Disney's 1959 comedy, "The Shaggy Dog," was about a boy who is turned into an Old English Sheepdog. The follow-up of "The Shaggy DA" was released in 1976. The "Return of the Shaggy Dog" was released in 1987. Today's youth are more familiar with the Tim Allen remake, "The Shaggy Dog." There are animated Old English Sheepdogs in the cartoon classics "The Little Mermaid" and "101 Dalmatians," and more recently, the "Cats & Dogs" movies had an OES character.
All of this HAIR!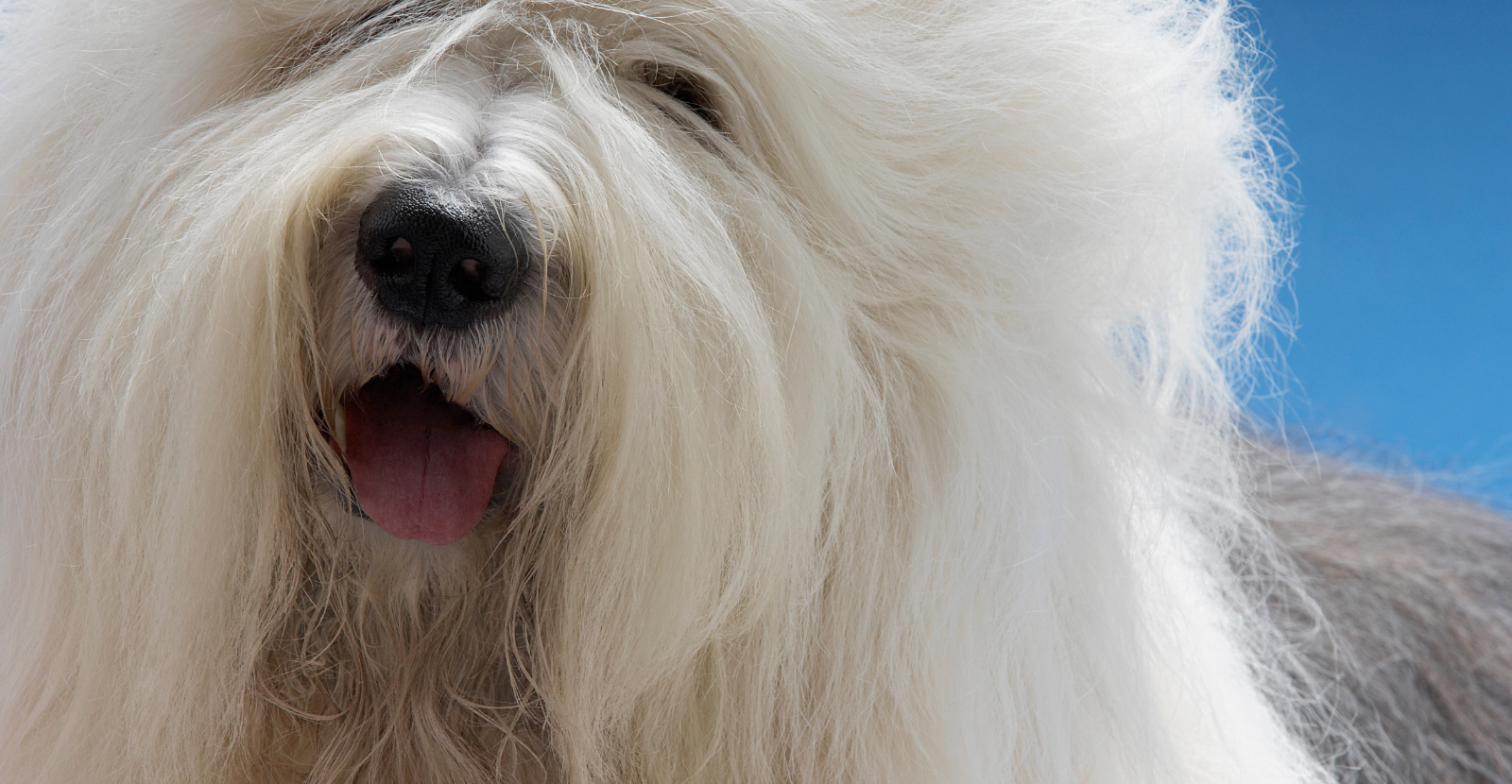 Surprisingly, Old English Sheepdogs do not shed much. If there is hair to be found, it is usually from it being so long it eventually breaks off. And with the mention of all this hair, let's address the biggest part of having a OES: THE HAIR!
OES Tips for Good Care
Exercise for the OES is key. You will need at least a minimum of two hours per day of exercise. It can be split into several walks on the leash and even trips to the dog park. Those OES are strong, so be sure you have a proper harness and leash to keep them by your side. They are so friendly, they will be known for visiting other dogs and it may be difficult to reel them back in! This is also good for socialization as the OES are very smart and playful, which means they enjoy being with other dogs.
The coat of an Old English Sheepdog seems long and intimidating as if it will take a lot of effort to control. For those who have had OES in their lives, it becomes a habit. But if you are new to arrive at selecting this dog, it seems a bit overwhelming. In the first year alone, the OES hair grows a full 12 inches of hair! How do you care for it? Here are some suggestions:
Surprisingly, they do not shed like other breeds, if properly groomed. The hair just keeps growing. Some of the coat will break off or come loose, just as human hair does.
Begin a routine! If you stick to grooming once a week with a thorough brushing, you will keep your dog mat-free and looking great. Treat it like an enjoyable, relaxing time for you and your OES, like a mini spa day.
OES do not need to be bathed often. Puppies being puppies may need more often bathing. Adult dogs can be bathed twice a year. The key is to fully groom your dog before the bath. The coat should be mat-free before getting wet. The water will only tighten the knotted mess and make it a bigger mess which will be almost impossible to remove.
Remember, there are no conditioners or detanglers made for dogs or humans strong enough to get matting out of a OES dog coat.
For ease of care, some OES pet parents simply shave their dog down once or twice a year. Brushing the shorter coat every couple of weeks is easier to maintain.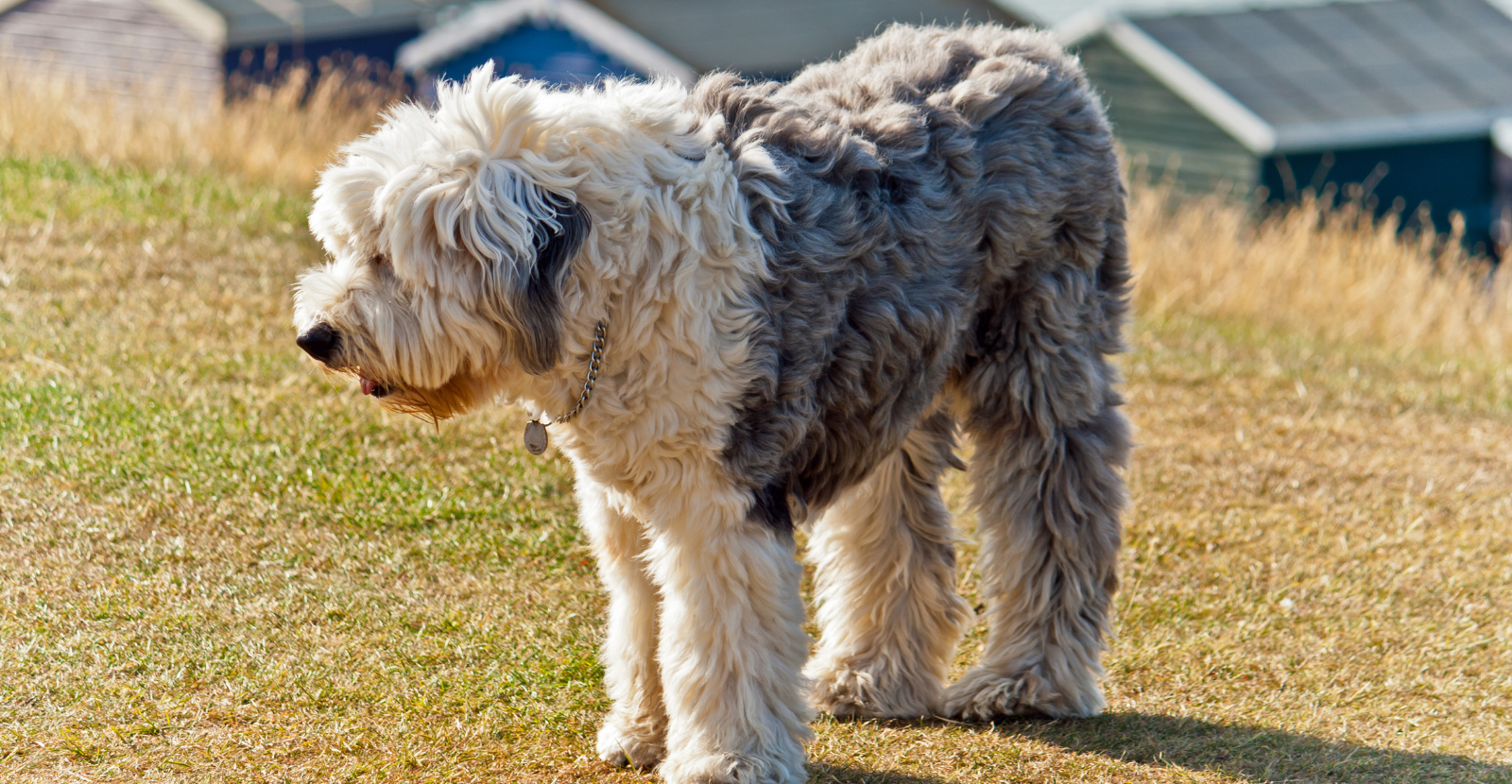 Top Health Problems of Old English Sheepdogs
Old English Sheepdogs are a large breed dog, so they do have large breed issues. If you are working with a breeder for your dog as a puppy, they can give you family history on if these issues are prevalent in your dog's family. While not all OES will have these health issues, based on the breed, they are more susceptible to these illnesses.
Canine Hip & Elbow Dysplasia. For the OES, it is more common to have hip issues where the hip joint doesn't fit together perfectly. This is something that will cause mobility problems and eventually lead to arthritis. It is important to keep regularly monitoring their mobility and be looking out for changes in the way they do common activities and willingness to move.
Osteoarthritis, or arthritis in dogs. Because of the joint problems already mentioned, OES are at very high risk for osteoarthritis. It is important to make regular assessments of your dog's mobility.
There are other health issues, but it really depends on your dog. For the size of this breed, you can count on a happy, healthy dog.
Glyde™ Mobility Chews
Parnell Living Science are the experts on arthritis in dogs. As the creators of Glyde™ Mobility Chews, we developed a unique formula with proven levels of anti-inflammatory ingredients to combat the signs of aging. Glyde uses natural, gluten-free ingredients to promote healthy joints to let your dog do everything he or she loves. Glyde is the only supplement that contains proven levels of three key components to relieve the painful signs of arthritis.
Glyde's proven formula has all-natural ingredients and high levels of glucosamine and chondroitin, plus New Zealand Green Lipped Mussel (GLM). The proven levels of these key ingredients are what makes the formula unique:
Glyde is often veterinarian-recommended because of the results they have seen in their practice. Ask your vet to see if they have experience with Glyde and how it helps dogs. The good news is you do not need a prescription to use Glyde on your dog. Since it's an all-natural supplement, it is healthy and provides great ingredients specifically proven to help their joints. You can use it at any time to give your dog some much-needed bounce in their pounce! While Glyde is good for your dog, they think it's a treat. Shake the jar and they'll come running once they are familiar with the way it helps them, plus it tastes good to your dog!
No matter what, be sure to keep your OES happy and healthy with plenty of exercise, a great diet and lots of exercise. And enjoy them as they bring delight to every day!