If you are getting ready for the holidays, you may be putting together a list of gifts to get your family and friends this season. Of course, you wouldn't forget your fur-baby during the holidays. Don't worry, you aren't alone as a majority of us will spend big bucks on our dogs at home. Just how much? We went to the experts to find out.
Every year, we spend more on our pets. Of course, there are more pets in our homes than ever before. According to the American Pet Products Association, pet ownership has grown tremendously in the US. The first year they did a survey, 56% of the U.S. households owned a pet. Today in 2020, 67% of U.S. households own at least one pet, which is an estimated 84.9 million homes. The organization estimates pet owners will collectively spend over $99 billion on our pets this year. Yes, that number is correct: billion with a B!
The survey has shown 95% of pet owners are going to get their pet something for Christmas. Most pet owners will spend at least $36 on their pet, while some will spend well over $100. To help make your pet shopping easier, here are 10 products and items to get your pet. These are some finds our pet-loving staff have discovered on our own. They are in no particular order, just one convenient list to help you get started with your holiday pet shopping.
Paw Washers
Winter is the perfect time of year for muddy paws to enter our lives. How do you clean them? There is a relatively new way to do it: the paw washer. What we like about them is the fact you don't have to put your dog in the sink or tub, just plunge a paw in the special paw washer. As there are a big variety, we suggest getting ones that fit by the size of your dog and then the cost. This item is relatively inexpensive and can be purchased on line or at your favorite big box retailer.
Maze Feeding bowl
If your dog is like mine, they can't eat their food fast enough. Dogs, especially puppies, learned to fight for their food and eat as quickly as possible while they were with their mom and their siblings during nursing. However, as they age, eating fast can cause a variety of issues including vomiting and bloat. Plus, dogs that eat fast can eventually have weight problems. The goal is to slow down their eating, filling them up in a better way. Enter the dog maze bowl. This pattern makes them work to get every morsel out of their dog dish. Find your perfect dog maze bowl.
Pet Carriers
There are a variety of pet carriers now available. Some are push strollers, some are designed to wear on your back and some are designed to wear on your side. If your dog is reaching a status where you still want them to come with you, but they don't have the stamina to keep up then you might want to consider getting a pet carrier. For the variety in types, sizes and prices, check out this overview by Pet Life Today.
Pet Trackers
Why rely on your neighbors to help you find your dog when you can rely on your phone in real time? Plus, pet trackers have come a long way to be a more affordable. There are some that use GPS and others that use Bluetooth. Be sure you check the distance in its range. Some trackers have can alert you can turn on if your pet gets out of a safe zone, like a fenced in yard. Others have smaller alert zones and are more for if your pet is lost somewhere in the house.
Glyde™ Mobility Chews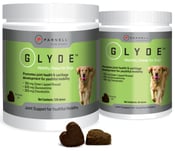 Give your dog the gift of mobility and pain-free joints. Amazingly, 80% of dogs will get arthritis by age 8, many younger than that. It all depends on how your dog ages. Glyde is a natural joint supplement that combats the signs of arthritis. What makes Glyde different is the proven levels of ingredients such as Green Lipped Mussel (GLM), chondroitin and glucosamine. GLM has many health benefits but it is most notably effective as an anti-inflammatory for joints. If you have a larger breed dog, you will want them to be on some sort of joint supplement. And if you are like me, you'll want the best mobility supplement with proven levels like Glyde.
Harness or collar
There are collars and harnesses in every style and color. For functionality, if you have a larger dog, get a harness with a handle on the back. This makes it easier to grab them, should they start to pull away. Another tip for walking your dog is if your harness has an attachment for the leash on the back AND the front. If you have a larger dog, they can easily pull you if you attach the leash to the back. A quick adjustment to put the leash on the front and you find they can't pull as easily. This has been a great addition to this dog walker's harness portfolio! Purchase harnesses and collars at your favorite retail location or online.
IDentification Tags
A new identification tag is always a good idea! We found Road iD to be a great concept. espeically if you are like me and dislike the constant "ching-ching" of your pet's tag on their collar. Similar to a regular pet tag, you put all the details on this metal tag but it is more secure on your pet's collar than a typical tag as it won't fall off. You can also get one for yourself. According to statistics provided by Road iD, there are many reasons you should wear one. It convinced me. I was glad I did because I found myself using it recently when I lost my cell phone. With Road iD, you wear the phone numbers you need on your watch band, and it looks cool!
Puzzle Toys
Squeaky toys can only go so far. Dogs love the idea of hunting for their treats. Enter adorable puzzle toys where dogs get the opportunity to grab squirrels out of the trunk or aliens out of the spaceship. They all make interesting squeaks, to the delight of your dog. There are some on every level, from easy to difficult to solve.
FitBark

Activity and movement are important for humans, so it makes sense they would be important for your dog too. FitBark has made a great activity tracker so you can track your pet's activity, sleep quality, distance, calories burned and overall health and behavior. What's nice about this tracker is you can keep an eye on their health too, even detecting skin issues. It's a wearable on the collar, so your dog hardly knows it's there.
More good news is that Glyde Mobility Chews and FitBark are offering the opportunity to bundle your purchase of both from the Parnell store. Then, your dog's joints will be mobile so they are ready for more activity and you can track what they are doing to be sure your dog stays fit. Get your FitBark bundle at the Glyde store!
Pet Cameras
There are a variety of ways to see what your pets are up to when you aren't there. Depending on your budget, you can have a simple camera to tune in and see what your dogs are doing. Or you can get a higher end camera that allows you to do 2-way talking to your dog and dispense treats for them. Simply set up the camera, install the system's app to your smart phone, and enjoy communicating with your pet. This group did the work of trying out several pet cameras at a variety of price ranges.
No matter what you get your fur-baby for the holidays, take time to enjoy these gifts and be grateful for the memories they provide. Enjoy the holiday season and your pets too.