I am sure you have seen several companies with an "It's a Wrap" for the year. We have a lot to celebrate for our blog too. Our biggest good news is that you like us, you really like us! We saw that in our number of subscribers. We started the year with a little over 6,000 subscriber emails and now our numbers are over 14,000 emails! We won recognition for the second year in a row. And we just enjoyed writing about our adorable fur-babies.
Here are the highlights we hope you saw. Did you miss anything? Check it out now!
The Top 5 blog posts of 2019
#5: We are all curious about what our dogs might be dreaming of when they are making all that noise while they sleep. We know you do too, because you made our fifth most read article "Do Dogs Dream? Sleep Questions Answered."
#4: We celebrated "Senior Dog Month" with a special blog post dedicated to why senior dogs are loved in the home. Clearly, many of you agreed.
#3 Labrador Retrievers are the #1 dog breed in the world. Which is why it wasn't surprising there were a lot of Labrador Retriever readers out there who enjoyed "Labrador Retrievers: Arthritis Risk Spotlight."
#2: Another breed-specific blog post that barely edged out the Labrador Retriever group was the German Shepherd Dog lovers out there because they know "Why We Love GSDs."
And our #1 post was actually an in-depth look at the phenomenon of arthritis in dogs. It showcased how it happens, symptoms to look for as well as what you can do to help. Be sure to check out our guide: "Arthritis in Dogs: A Pet Parent Guide"
Winner Winner Chicken Dinner #2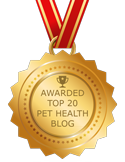 We are also proud to receive the news Parnell Living Science made the list on Feedspot's "Top 20 Pet Health Blogs to Follow in 2019." You can imagine our delight when we were announced again for a second year. It gave us the #6 spot on a list with 20 total excellent blogs to follow. Feedspot, a ranking service researching top-read blogs, "ranked the Best Pet Health Blogs from thousands of Pet Health blogs on the web using search and social metrics." The site encouraged people interested in Pet Health to subscribe to these websites because they are "actively working to educate, inspire and empower their readers with frequent updates and high-quality information." Thank you, Feedspot for continuing to keep us on the list!
Like and Follow Us Too
There are always more ways to connect with us through our Facebook and Instagram pages. We have a very active Bernese Mountain Dog group out there because they made this social post one of our most popular:
Speaking of which, have you liked and followed Parnell Living Science? If not, please do! Find us here:
Free Printables
Lastly, we were pleased to provide you with free downloadable and printable resources to possibly learn something from, or just enjoy using. If you missed any, check out the links and download them yourself! Our free pet swag included:
If you enjoy what you read every week, encourage your friends – who are as crazy about their pets as we are – to subscribe.
We hope 2019 was good to you and your fur-baby. And we're looking forward to more furry, friendly fun in 2020!