Hopefully, you are still walking the dog more than ever, thanks to the current state of the United States and how COVID-19 numbers continue to soar. Getting out of the house with the dog is one of the best ways to get yourself and your dog the exercise you need, and gives you a much-needed break from your home. If you haven't gotten outside with the dog in awhile, use this as motivation: January is National Walk Your Dog Month! This means it is time to get out the door and walk the dog, no matter the temperature outside!
There are so many different reasons to choose this month as Walk Your Dog Month. Unfortunately, many people suffer from post-holiday blues. May of us have come off the "holiday hangover" where we shop, eat and celebrate the holidays. Then in January, winter approaches and there are not as many reasons for celebration. This is the perfect opportunity to get out and exercise. We all know we have a very willing participant to go with us: the dog!
Amazingly, according to the Association of Pet Obesity Prevention, 56% of dogs in the United States are obese. In humans, there are many consequences for being obese including, lack of energy which means an increase in lethargy. The health consequences include sore and inflamed joints which means arthritis is setting in, as well as more serious health issues. The exact same is true for dogs!
To combat these health issues, get back on track and enjoy Walk Your Dog Month!
6 ways to get out for Walk Your Dog Month
Get out today. Sometimes we overthink where to go or when to start. Just walk out of your front door or choose an easy, walkable place to enjoy such as the dog park. Bundle up and head out, get some fresh air and maybe meet others doing the same thing!
It's a leash training opportunity. Every dog should know how to behave on the leash. If you haven't gotten out with your dog in awhile, learning or re-learning how to be on the leash is a great skill for you both to master. Start now and by spring when more people are out, your dog will be ahead of the dog greeting game.
Start small. Begin with short walks and increase your distance. Commit to at least 20 or even 21 minutes a few times a day (think 2021!) and increase from there.
Consider when it's sunlight. When walking outside during winter, try to walk in the daytime. As the days are shorter, this means the window is smaller. If you can't get out when the sun is up, be sure to wear clothes that are reflective or brightly colored. Avoid black because many people simply can't see you! Safety is priority for you both.
Dress appropriately. If it is cold weather, dress warm. You might wear warm coats and gloves. Your dog might need a warm jacket too!
Pick up, please! Remember to bring waste bags as you don't want to forget to clean up after your dog.
The U.S. Centers for Disease Control and Prevention suggests committing to 30-minute walks every day to maintain good health. Start slow and work you way up. Then increase as you can. You will see tremendous health benefits for both you and your dog. And you may even meet some friends doing the same thing.
oh no: My Dog Doesn't Want to walk outside
f your dog is not interested in walking outside, there may be another issue. Possibly, they like the warm inside better than the bitter cold (yes, we spoil our dogs!). Or, they have a joint problem. One of the top dog health problems is arthritis in dogs. As joints age, they get stiff and sore, especially with extra activity. The good news is there are things you can do to help your dog.
First, take our easy quiz to see how your dog by clicking on the red button link below:
Remember, it is easy to protect your fur-baby's joints and ensuring maximum play time is to make sure you are providing vital nutrients for their joints. Glyde™ Mobility Chews provides your dog with essential, natural ingredients to promote joint health. Glyde is the only joint supplement with three proven key ingredients to relieve the painful signs of arthritis: glucosamine, chondroitin and, the power of New Zealand Green Lipped Mussel (GLM). GLM is what makes us different as it is an all-natural ant-inflammatory, helps improve joint function and is one of nature's best sources of Omega-3 fatty acids.
Track Your Dog's Steps!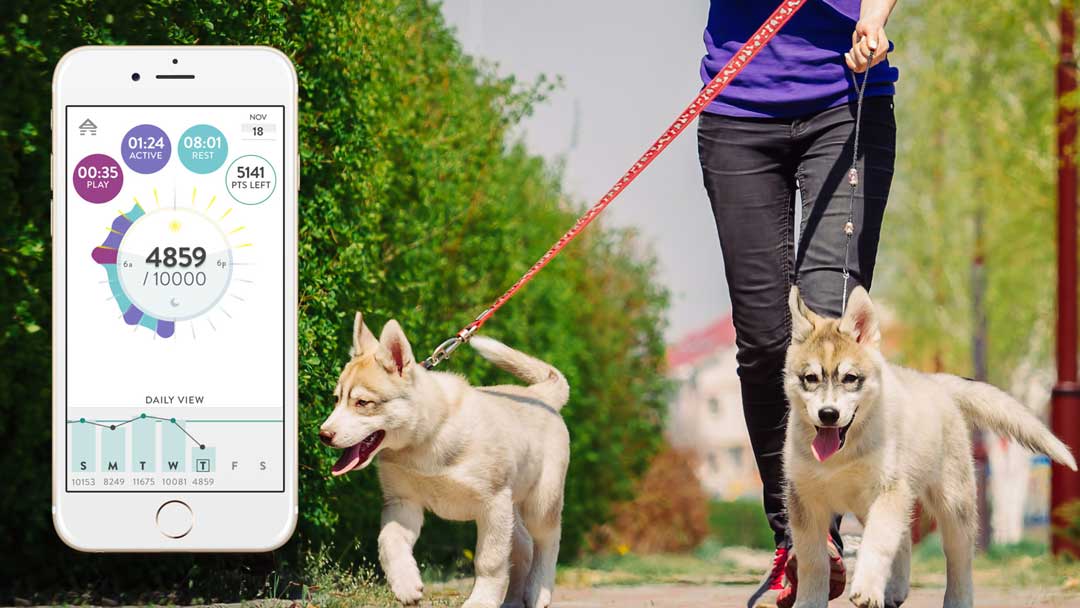 Are you interested in seeing just how many steps your dog really gets? Now in addition to tracking your own steps as you walk, you can also track your dog's steps! Glyde is pleased to work with FitBark to put together the perfect bundle so your dog is in tip top dog walking health! Introducing the the Glyde + FitBark Bundle!
FitBark attaches to your dog's collar and tracks a ton of vital health information such as activity minutes, distance traveled, calories burned, sleep quality and overall health and behavior. It even links to your Fitbit, Apple Healthkit, Google Fit device, or a compatible iOS or Android mobile device so you can track you dog's fitness goals right alongside your own and chart progress side by side.
Plus at this great price, it is exactly what you need to help you both with those New Year's movement goals!
Other Resources
We have written other stories about the importance of dog walking. Be sure to check them out!
Now get on out there, no matter the temperature! It's a great time to celebrate January's Walk Your Dog Month!